Another nilgai found in Naogaon
Suspicion of smuggling arises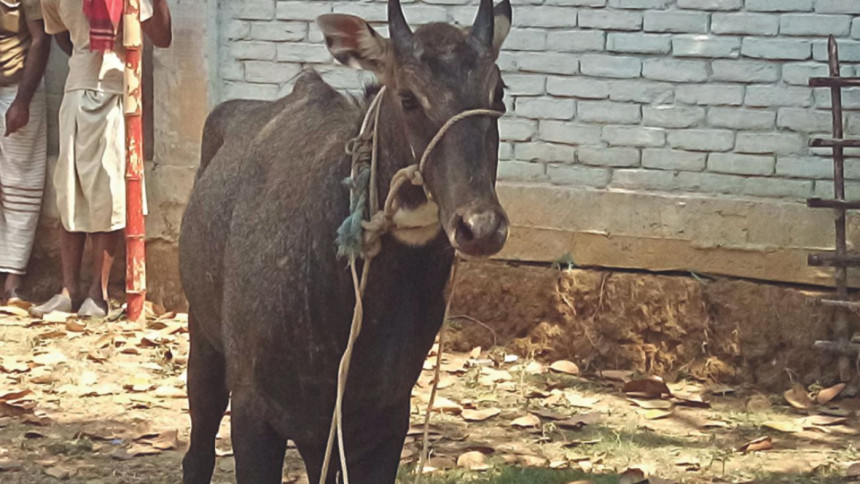 Locals yesterday found a third Nilgai, the largest antelope in Asia that was earlier believed to be extinct in the country, at Nimoil union of Naogaon's Patnitola upazila in a span of seven months -- making allegations of its "smuggling" rife.
In the afternoon, wildlife conservation division of the forest department in Rajshahi assisted by the local administration rescued the nilgai and sent it to Ramsagar National Park in Dinajpur, Jahangir Kabir, an inspector of the division, said.
In September last year, local administration rescued a female Nilgai from Thakurgaon's Ranisankoil upazila and in January, locals found a male nilgai at Jotbazar village of Naogaon's Manda upazila.
The two nilgais were taken to Ramsagar National Park in Dinajpur for breeding, but the female died last month.
"The newly found nilgai is a male and its skin colour is bluish grey," Kabir said, adding that they gave it medical attention before sending it to Dinajpur where the other nilgai is staying.
Locals noticed the nilgai wandering in a mango orchard near Nimoil Union Parishad at around 7am and informed the Parishad chairman. The chairman then kept it on the premises.
"It was terrified, witnessing the presence of a lot of people," UP Chairman Abul Kalam Azad said.
"Locals found it wandering around," said Patnitola UNO Shariful Islam. He said no one has made any allegation of smuggling.
The number of nilgais is increasing in India's Bihar, forcing the authorities there to cull them often, said Zillur Rahman, Rajshahi divisional forest officer.
"It might have fled to Naogaon," he said.   
But UP Chairman Azad suspected smuggling.
"I suspect the animal escaped while being smuggled into the country," Azad said, adding that the Indian border is barely two kilometres away and is fenced with barbed wire, leaving no scope for the animal to enter into Bangladesh on its own.
On January 22, a male nilgai jumped off a truck while being carried along with cattle and locals caught it at Jotbazar village of Naogaon's Manda upazila.
Forest officials then suspected an "organised gang" might have smuggled it into the country. Some locals demanded Tk 5 crore while the forest officials were rescuing it.
Wildlife expert and veterinarian of Sylhet, Manzur Kader, said that nilgais avoid humans as well as dogs and monkeys. "They stay away from human habitat unless they are forced," he said when contacted over phone.
Wildlife Crime Control Unit Director Mihir K Doe, however, said they were yet to know about smuggling of nilgais.
"As we have no unit working in the north, we cannot get involved with any investigation," he said.
The Rajshahi DFO Zillur Rahman said investigating into whether the nilgais are smuggled into the country is difficult due to lack of witnesses. He said the two male nilgais would be sent to Bangabandhu Sheikh Mujib Safari Park in Gazipur after the newly found one recovers.
Nilgais were found in the north of Bangladesh until 1940s when they were last sighted in Tetulia and afterwards were declared extinct in the country.