17 'JMB men' held in capital
They were planning to migrate to Saudi Arabia for 'jihad': CTTC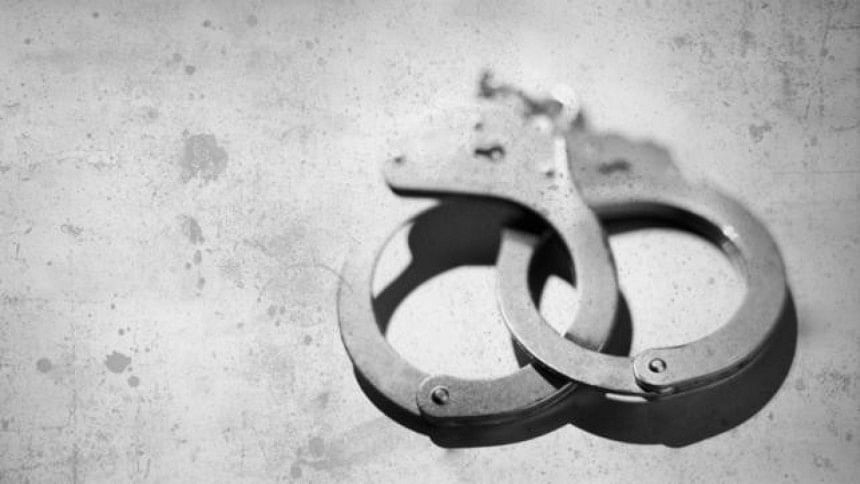 The Counter Terrorism and Transnational Crime (CTTC) unit of police claimed to have arrested 17 members of JMB from the capital's Kakrail area, who were planning to join a so-called jihad after migrating into Saudi Arabia.
On information, police conducted a drive in front of Public Health Office, opposite Kakrail Mosque, around 7:15pm on Monday and made the arrests, Towhidul Islam, additional deputy commissioner of CTTC unit, told The Daily Star yesterday.
The arrestees are Haider Ali, Mahmudul Hasan alias Masum, Jamirul Islam, Billal Hossain, Sheikh Arafat alias Johnny, Imrul Hasan alias Emon, Saiful Islam, Mozammel Haque, Md Shahjalal, Md Akhtaruzzaman, Mahmudul Hasan alias Sabbir, Abid ul Mahmud alias Abid, Sohail Sardar, Obaidul Islam alias Sumon, Mahmud Hasan alias Sharif, Majedul Islam alias Mukul and Sohag Hasan.
CTTC unit seized 19 cell phones, Tk 2.34 lakh and $922 from their possession.
"In primary interrogation, all the arrestees admitted that they are members of mainstream JMB," said ADC Towhidul.
Towhidul, who led the operation, said an engineer named Syed Mostaq bin Arman, left Bangladesh for Saudi Arabia in 2017 and is still staying in the country. Mostaq released some audio speeches and videos on his YouTube channel, inviting others to join "jihad" at a place called Ghazwat-ul-Hind in Saudia Arabia as a soldier of Imam Mahdi, he added.
"Inspired by this audio and video clip, the arrestees communicated with Mostaq and tried to go to Saudi Arabia to prepare for war as Imam Mahdi's soldiers," said Towhidul, adding that they left home in mid-March.
On January 25, four Bangladesh Agricultural University students -- Mizanur Rahman, Al Amin, Fahim Hasan Khan and Abdul Momen -- left the country for Saudi Arabia to perform Umrah, but never returned.
Police found communication details between the "missing" students and Mostaq. Besides, seven others -- Saad, Kawsar, Sharif, Tofazzal, Giasuddin, Ali Azam and Rashed -- also managed to leave the country and went to Saudi Arabia to join the so-called army, claimed CTTC officials.
One of the arrestees -- Jamirul Islam -- is also a student of the university, they added. A case was filed against the 17 arrestees with Ramna Police Station .
Saiful islam, deputy commissioner of CTTC, said there were 19 of them, and they are looking for the other two members.
"Also, we're yet to find out which group Mostaq belonged to but his activities match with that of JMB's. We are now keeping a close eye on his actions and have informed the Saudi government to get more details about him," he said.