1,441 incidents of violence against women and children last year
We Can Bangladesh findings say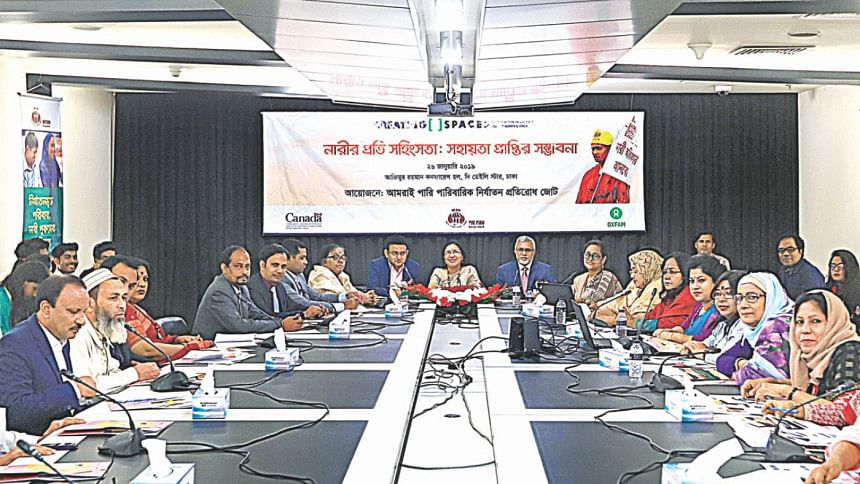 Speakers at a roundtable yesterday stressed the need for generating awareness and bringing about a change in mindset to end violence against women and children in the country.
They said Bangladesh's progress will not be meaningful without protecting the rights of women and children.
We Can Bangladesh, an alliance of civil society members and organisations, arranged the roundtable on "Violence against women: Possibilities of receiving support" at The Daily Star Centre in Dhaka.
Sharing findings, the alliance's Executive Coordinator Zinat Ara Haque said violent incidents against women and children are frequent in the country and many such incidents go unreported.
While seeking justice, many victims and their families face challenges including lack of cooperation from police in filing general diaries, biased postmortem and investigation reports, she said.
Last year, 1,441 incidents of violence against women and children occurred in the country, she said, while disclosing the findings.
Of the victims, 996 were women and the rest children. About half of the incidents took place in Dhaka division alone, she added.
Chairing and moderating the roundtable, We Can Bangladesh Co-chair Shaheen Anam said they are committed to put an end to gender violence but at times feel frustrated because of the frequency of the incidents reflected in media reports.
"We're seeing too many cases of violence against women. I will not go into the debate on whether it is rising or declining," she said.
She stressed the need for coordination among institutions and strengthening the judicial system to curb gender violence.
She also called upon the prime minister to take a "zero tolerance" policy to this end.
Mokhlesur Rahman Badal, chairman of Bangladesh Bar Council's Human Rights and Legal Aid Committee, said cases related to violence against women and children should solely be dealt at special tribunals set up for them for speedy trial.
Nasimun Ara Haque Minu, president of Bangladesh Female Journalists' Association, said changes in textbooks were required to generate awareness among children on the impacts of gender violence.
Equal rights must be ensured in the country's existing laws related to heirs and successors, she said.
Abdullah Al Mamun, director of Department of Social Services, said coordination among different government institutions is required to make significant progress to this end.
WE CAN BANGLADESH FINDINGS
Meanwhile, according to We Can Bangladesh findings, prepared based on reports published in six national dailies, among last year's cases of violence against women and children, 468 were murders and 396 rape.
Last year also saw 135 women and children committing suicide and 179 incidents of sexual harassment. The alliance recorded 71 incidents of domestic violence in the period.
It found that 467 incidents took place in family surroundings. Eight incidents happened at workplace, 45 at educational institutions, 18 in public transports, 21 in public places and 11 at hotels.
Only 69 cases related to violence against women and children saw verdicts in 2018.
We Can Bangladesh Executive Coordinator Zinat said the number of disposed cases was very few compared to new incidents happening last year.
The alliance shared status of three much-talked cases at the roundtable.
One of the incidents, which happened in October, 2016 in Dinajpur, was the brutal rape of a minor.
In other cases, a housewife was killed allegedly by her husband and his cohorts in the capital in September, and another housewife committed suicide allegedly over torture by her husband and others in Gopalganj in October.
All the cases are awaiting verdicts at present.