March to PMO if Tonu killers are not caught in 48hrs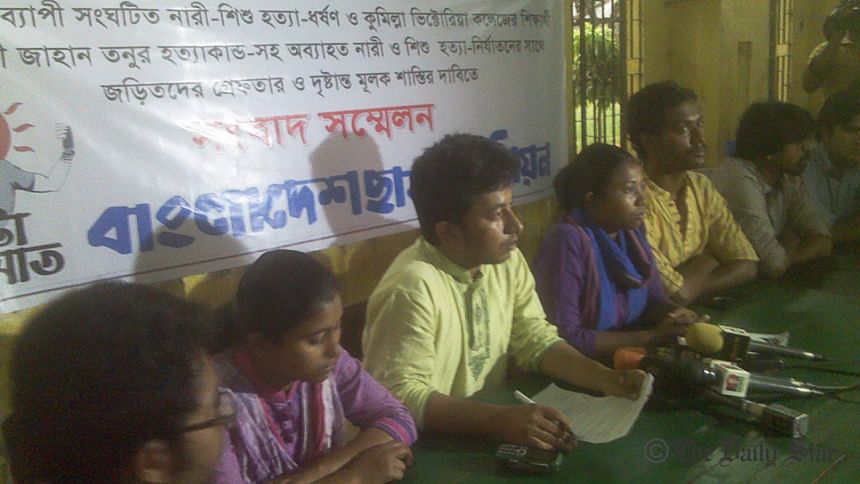 Bangladesh Chhatra Union today gave a 48-hour ultimatum to arrest the killers of Sohagi Jahan Tonu who was murdered in Comilla cantonment on March 20.
The student body threatened to march towards Prime Minister's Office on March 31 if the culprits are not arrested by then, they said in a press conference.
Students' Union's General Secretary GM Jilani issued the ultimatum at Modhur Canteen in Dhaka University. The student fron's president Lucky Akhter feared "Tonu might be denied justice".
---
With no remarkable progress in the murder case of Comilla college student Sohagi Jahan Tonu, protests are surfacing everywhere in the country.
Starting from protest rallies to "road march"  and road blockades, general students and activists are trying hard to catch the attention of authorities and pursue for justice.
They all allege that Victoria College student Tonu, a 19-year-old whose body was found in Comilla's Mainamati Cantonment on March 20, was raped before murder.
---
Students' Union announced to hold mass gathering at the base of Razu sculpture in Dhaka University followed by a torch procession on March 29.
If the culprits still remain unaccounted for, the organisation will go for strikes at all educational institutions across the country on April 4, reports our Dhaka University correspondent.
On the other hand, Chhatra Front, another student body, held a press conference today. Its General Secretary Snehardi Chakrabarti said at present the people of the country are not safe anywehre.
"The government has remained silent although the students are protesting. Instead, attempts are on to bury the incident," he said alongside tagging demands to immediate capture of the culprits and reprimand them with exemplary punishment.
Meanwhile, Bangladesh Nari Mukti Kendra and Samajtantrik Chhatra Front (SCF)) along with the students of Eden College held a demonstration rally and formed a human chain at capital's Eden college premises today.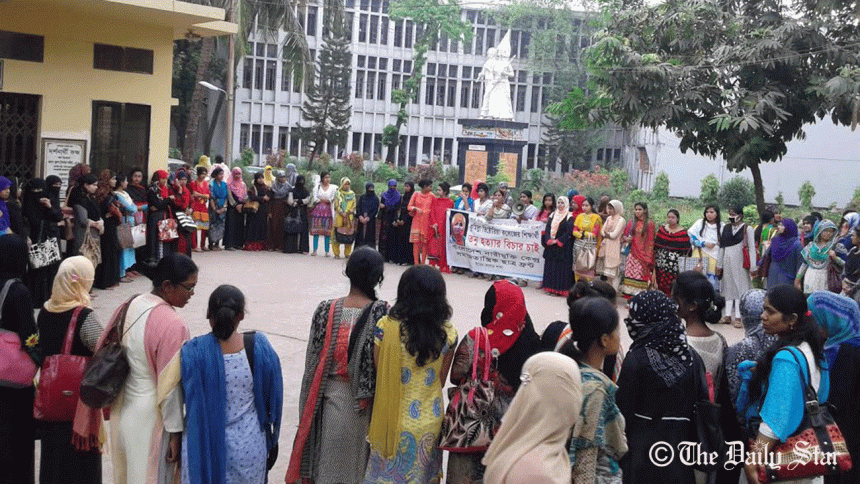 Speakers said that a culture of impunity led the country into a state "open for sexual harassment". They urged all to stand in solidarity and make the country a 'safe place' for all.
"Nine days have passed, yet the police still could not trace anyone. We are fuming as the government is indifferent towards the arrest of the culprits," said the speakers.
Bangladesh Nari Mukti Kendra Organising Secretary Monideepa Bhattacharya, and SCF city unit president Naima Khaled Monika were among others to speak at the rally.
Later, they brought out a procession at the capital's Azimpur area.
The platforms announced to hold a mass signature campaign and a rally at Eden College premises tomorrow (Tuesday) at 11:30am.