Man dies in bomb explosion near Dhaka airport police box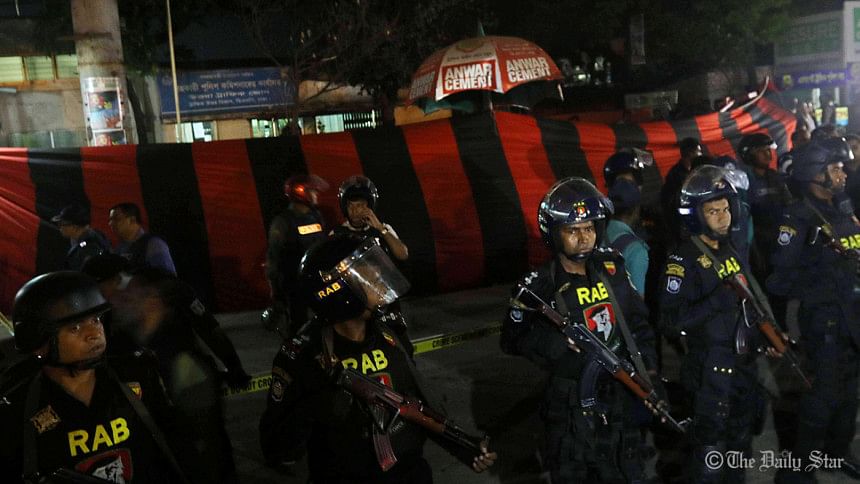 A man died when a bomb attached to his body exploded near a police box in front of Shahjalal International Airport in Dhaka tonight.
Law enforcers at the scene said the bomb was attached to the man's waist and that the trolley bag with him was being examined.
No one was injured in the incident.
"The man with a trolley bag was taking the bomb somewhere. But seeing policemen, he must have become too cautious and ended up causing an explosion," Dhaka Metropolitan Police Commissioner Asaduzzaman Mia told reporters at the scene.
The incident caused no damage to any policeman or civilians, he said, adding that the identity of the man, aged between 30 and 32, could not be ascertained yet. The deceased was wearing jeans and a full-sleeve shirt.
The commissioner added that there was a checkpoint at the spot and the man was trying to avoid it and became "too cautious".
He however, added that what actually happened could not be known until a "full-fledged investigation was done." He also said a bomb disposal team of DMP was working at the scene.
Asaduzzaman also stressed: "The man's intention was not to attack any of the policemen. Some 8-10 policemen were only about 20 steps away from where the bomb exploded. He could have reached them if he wanted. But he didn't. So it was an accident that cost his life."
 The incident took place at around 7:40pm, Nure Azam Mia, officer-in-charge of Airport Police Station, told The Daily Star.
The incident took place just a week after a man sneaked into a Rab barrack in the capital's Ashkona and blew himself up.
The police commissioner, however, asked journalists not to draw any connection between the two incident.
Meanwhile, at least two people sustained injuries when the bomb disposal unit was defusing the bombs, found inside the trolley of the man.