Chhatra Jote agitates to stop Rampal plant
Intercepted by police at Shahbagh, six injured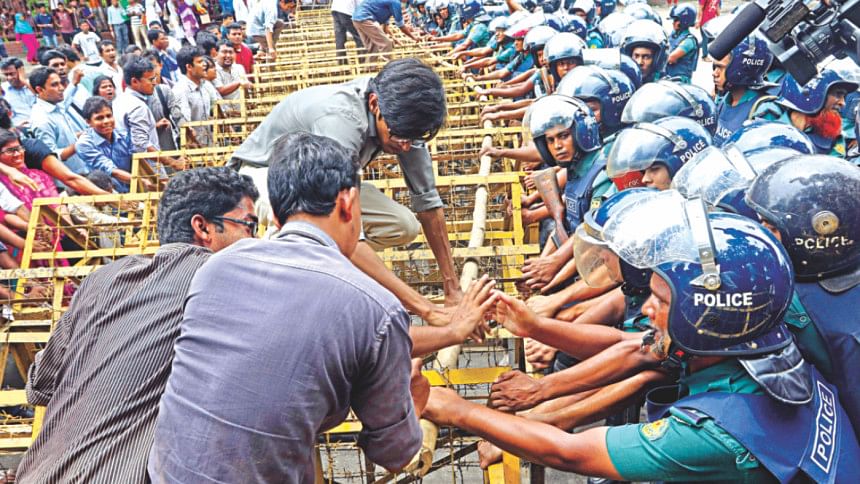 After scuffling with police and breaking through barbwire barricades, the activists of an alliance of left-leaning student organisations yesterday blocked the capital's Shahbagh intersection for one hour demanding stopping of the construction of Rampal power plant near the Sundarbans.
The protest had brought the traffic to a halt.
When the activists of Pragatishil Chhatra Jote were marching towards the intersection from the Dhaka University campus, they were intercepted by police in front of the public library, leading to the scuffles.
Snehardi Chakrabarti Rintu, general secretary of a faction of Samajtantrik Chhatra Front, claimed that at least six activists were injured during the scuffles. Of them, Gobinda Das was taken to Dhaka Medical College Hospital and four took first aid, he said.
"We will demonstrate across the country on August 18, protesting the police attack on our peaceful demonstration," announced Naima Khaled Monika, president of Samajtantrik Chhatra Front (SCF), while addressing a rally at the intersection.     
They withdrew the blockade after police officials requested them to clear the road.
Abu Bakar Siddique, officer-in-charge of Shahbagh Police Station, said they had stopped the protesters because there were hospitals in the area.
Addressing the rally, the student leaders said the government was constructing the power plant in the interest of the neighbouring country despite knowing that it would damage Bangladesh's environment.
Imran Habib Rumon, president of a faction of SCF, said, "If a referendum is held, the majority would vote against the construction of the plant... The coal used for the plant will poison the water of the lakes and rivers of the Sundarbans and damage the biodiversity."
"The government wanted to please the neighbouring country and its company, ignoring our interest," said President of Chhatra Federation Saikat Mollik.
The student leaders urged all to join the August 20 anti-Rampal plant rally by the National Committee to Protect Oil Gas Mineral Resources, Power, and Ports, which will be held at the Central Shaheed Minar in the capital and in the district and upazila headquarters. 
The 1,320MW plant site is just 14km upstream the Sundarbans Reserve Forest. A Bangladesh-India joint venture company is in the process of setting up the $1.8 billion coal-based plant.