Jaywalkers at high death risk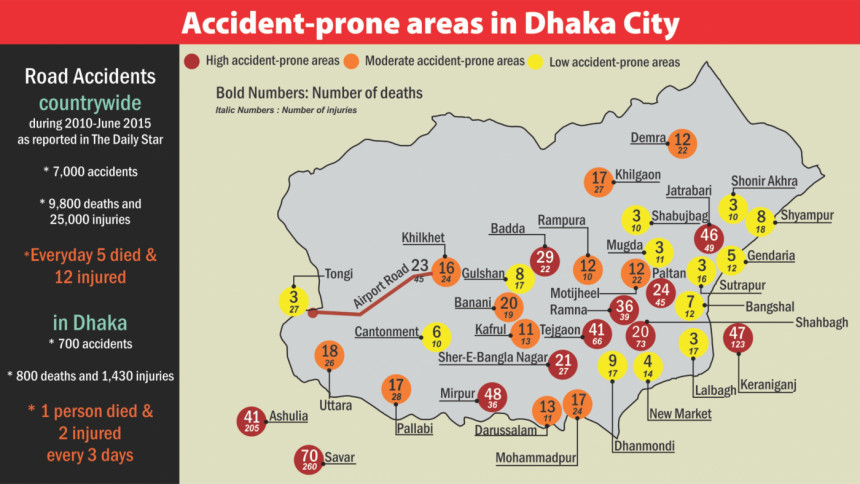 The bell rang and it meant school was over for the day for six-year-old Upoma. She could hardly wait to get back to her kitten at home.
To her, it seemed her father was taking too long to come. And when he finally did, the long wait to see her kitty seemed to have come to an end after a long day.
She was holding her father's hands and telling of her day at school while walking home just like any other day. But the walk did not lead Upoma back home.
A CNG-driven auto-rickshaw had run over Upoma and her father at Jatrabari crossing in Dhaka while they were scurrying across the road in rush traffic.
Stories of death as a result of jaywalking are not uncommon in Dhaka city.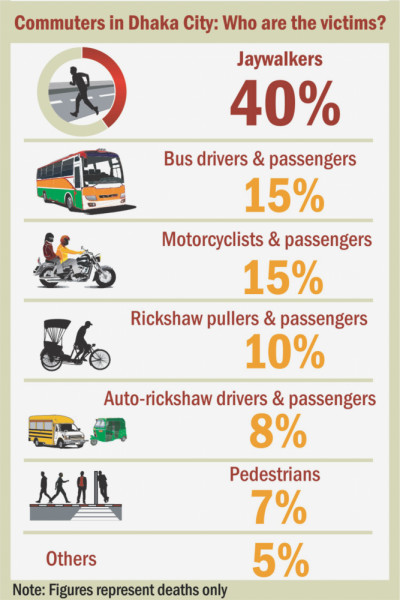 The Daily Star has accumulated accident reports from 2010 to present and found that jaywalkers accounted for 40% of all reported those deaths in the capital city.
It was also found that drivers and passengers of buses and motorcycles are the next biggest victims – 30 percent – of deaths in road accidents.
Next biggest victims were rickshaw pullers and their passengers at 10%, followed by three-wheelers at 8%. Sadly, pedestrians are also at risk and their death rate was at 7%.
LIMITATIONS
The findings are based on The Daily Star reports exclusively. Between 2010 and 2015, about 7,000 accident incidents were reported and one-tenth of these incidents took place in Dhaka city and its outskirts. This study was based upon that information only.