Islamist groups want Tagore bust removed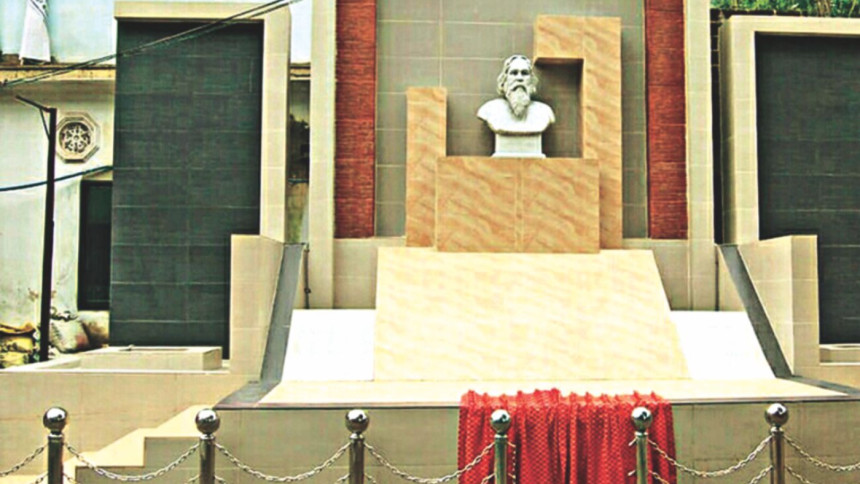 Less than 10 days after a memorial marking Rabindranath Tagore's visit to Sylhet was unveiled, two Islamist groups have demanded the bust of the Nobel laureate be taken down.
On June 12 this year, the Tagore bust and memorial -- commemorating his visit to the Gopinath Jiu Temple at Manipuripara in Machimpur, Sylhet town (on November 6, 1919) -- were unveiled on the temple premises by Sylhet City Corporation Mayor Ariful Haque Chowdhury.
Days after the inauguration, a group led by Jamiyate Ulamaye Islam and Khilafat Majlish started protesting against the sculpture.
A press release signed by Emran Alam, general secretary of Khelafat Majlish's Sylhet metro unit, stated that a joint meeting of both parties was held on June 21 and they demanded removal of the bust immediately. They will start a street movement if the demand is not met, said the press release.
However, Sangram Singha, general secretary of Manipuri Samajkalyan Samity, said the sculpture is not in a public place but in front of the temple. "It is a matter of pride for us that we had Tagore here, and he promoted our traditional dance globally," he said, referring to Tagore's introduction of Manipuri dance at his Visva Bharati University after being enthralled by the dance form during his Sylhet visit.
Ariful Haque Chowdhury, mayor of SCC, said this is all part of unhealthy politics.
"Tagore is in the soul of Bengali culture and it is our duty to uphold his memories. But as the city corporation election is imminent, some people are trying to gain political benefit through whatever means," the mayor said.
To mark hundred years of Tagore's visit to Sylhet, the Manipuri community decided to erect his bust and establish a memorial on the Gopinath Jiu Temple premises, and Sylhet City Corporation supported their wish.