Rights defenders 'getting labelled'
Sultana Kamal speaks on repressive steps taken to silence them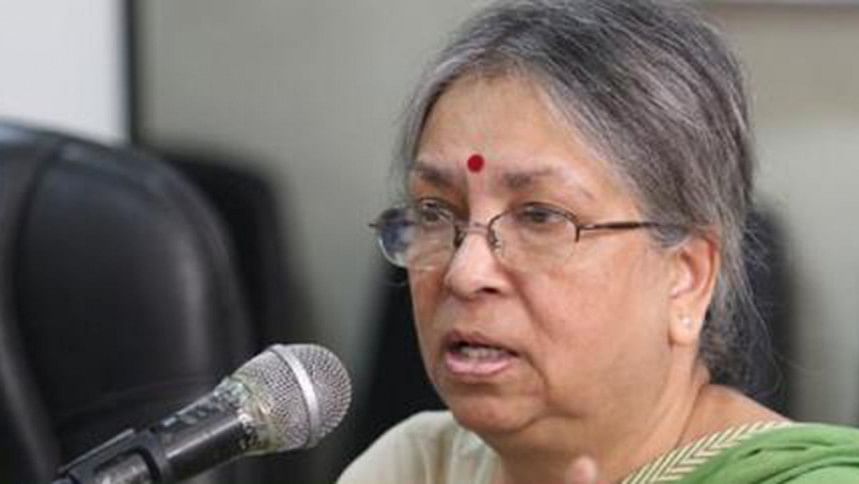 Rights defenders are in the most precarious condition now, Sultana Kamal said yesterday.
Whenever they talk about protecting people's rights, they are labelled "anti-state" or "anti-government" elements, she told the inauguration session of a conference.
Titled, "Indigenous Peoples Human Rights Defenders Conference-2018", the conference was organised by Kapaeng Foundation in the capital's Cirdap auditorium.
The rights workers, who cannot be threatened into silence, are often implicated in false cases and even arrested, she said.
"They take the most repressive steps to silence them [rights defenders]."
If rights defenders are anti-state or anti-government then, logically, the state appears to be anti rights, she added.
Rights defenders should unite and strongly protest the criminalisation of their activities, she said.
The event, supported by the Australian Aid, was attended by some 100 activists representing indigenous communities of the plains and hills.
She also said an environment of fear was created through putting rights defenders in a precarious condition.
"Culture of fear and democracy cannot exist side by side."
Sultana also commented on the findings of New York-based research firm Wealth-X that the number of ultra-wealthy people grew most rapidly in Bangladesh between 2012 and 2017.
"It means, we could not fulfil the promise of equal distribution of wealth."
It also shows that corruption and looting of people's wealth is continuing in different sectors.
Marginalised people are the worst victims, said Sultana.
Former chairman of National Human Rights Commission Prof Mizanur Rahman, Deputy Head of Mission at Australian High Commission Penny Morton, and General Secretary of Bangladesh Adivasi Forum Sanjeeb Drong also addressed the event.