Huge fake cash haul again, 2 held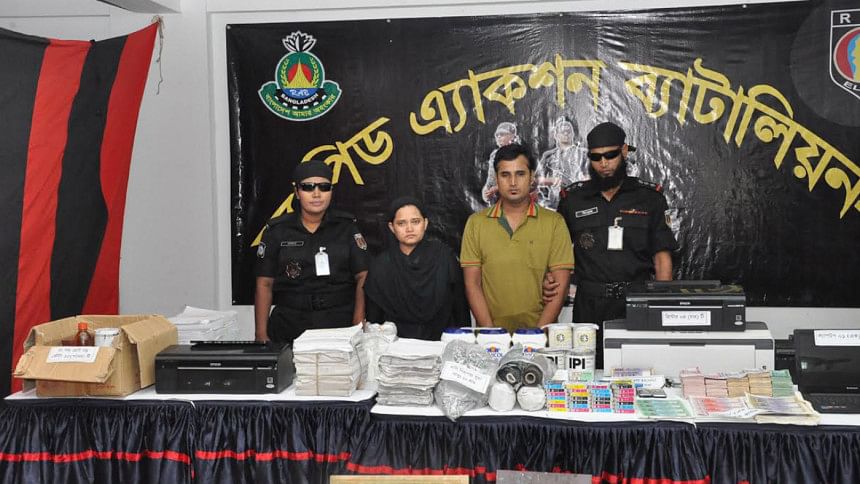 In continuation of the fake money haul in Dhaka ahead of Eid, law enforcers have seized Tk 25 lakh in fake notes and claimed arrest of a syndicate ringleader.
A team of Rapid Action Battalion (Rab) 1 made the bust from Adabor area around 10:00pm last night, Maj Maksud, deputy director of Rab's media wing said.
Two people detained in the bust were identified as Jamila Akhtar Manzila, 30, and Hamidur Rahman, 37, said to be the ringleader of a fake cash syndicate.
Tipped off, Rab-1 launched a drive and detained Manzila from Baitul Aman residential area of Adabor, and later Hamidur from the same area, the official said.
Fake notes worth Tk 25,07,500, several fake note making equipment including laptop, laminating machine, mobile phones sets and chemicals were also seized, he added.
Two others – Alamin alias Kala Babu and Asma Aktar Tuktuki – managed to flee the spot sensing presence of the Rab men, he said.
Since the start of June, law enforcers have been making repeated busts on fake notes. Many of them were said to have been involved in the trade for six or seven years and even caught at times.
On June 28, six members of a gang were held with Tk 1 crore in fake notes. On June 14, six men were held with Tk 40 lakh in fake notes and on June 9 another 10 were held with Tk 50 lakh fake cash.