'Deeply moved'
Jolie writes after visiting Bangabandhu Museum; meets PM at Gono Bhaban
UNHCR special envoy and renowned Hollywood actress Angelina Jolie yesterday visited Bangabandhu Memorial Museum in the capital's Dhanmondi and paid tribute to Father of the Nation Bangabandhu Sheikh Mujibur Rahman.
She paid the homage placing a wreath at the portrait of Bangabandhu.
Radwan Mujib Siddiq, grandson of Bangabandhu and trustee of the Father of the Nation Bangabandhu Memorial Trust, gave her a tour of the museum and briefed her about the life and work of Bangabandhu.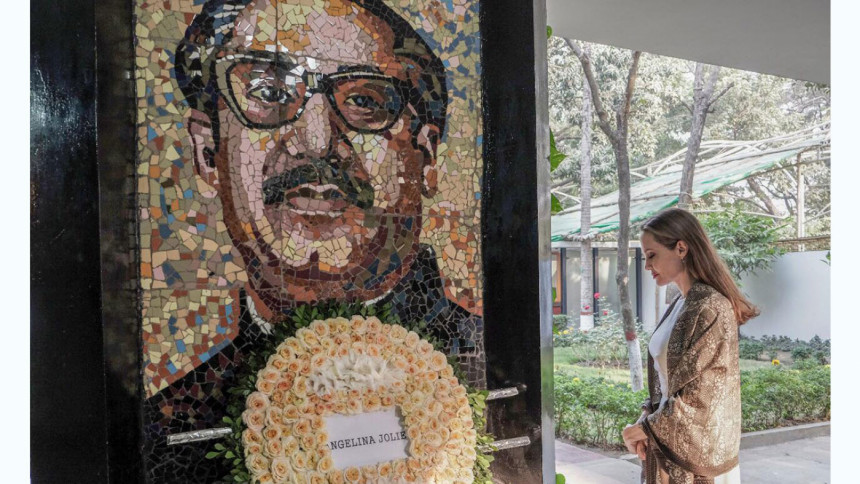 CEO of the Bangabandhu Memorial Trust Mashoora Hossain, Secretary of the Foreign Affairs Ministry's Maritime Affairs Unit Rear Admiral (retd) M Khurshed Alam, officials of the UNHCR and the foreign ministry were also present.
"I am deeply moved to be in the very special house ...," the UNHCR special envoy wrote a message in the visitors' book of the museum.
She, according to a press release, also stated that she is humbled and inspired when she found the museum well-adorned.
Jolie came to Bangladesh on a special visit to the camps in Cox's Bazar for the forcibly displaced Rohingyas from Rakhine, Myanmar, currently sheltered by Bangladesh.
On Tuesday, she urged the world to keep up pressure on Myanmar to guarantee the rights, dignity and safe return of the Rohingyas and stand by Bangladesh.
JOLIE MEETS HASINA
Noting that it is one of the toughest tasks to feed and manage so many Rohingyas, Jolie said the UN Refugee Agency and the World Bank would work together to reduce the burden on Bangladesh.
She made the remarks when she met Prime Minister Sheikh Hasina at the Gono Bhaban yesterday.
PM's Press Secretary Ihsanul Karim briefed reporters after the meeting.
Jolie described Hasina as an "example-setting leader" in the world for providing shelter to huge displaced Rohingyas in Bangladesh.
'ORGANISE MEGA EVENT'
In another development, Foreign Minister AK Abdul Momen yesterday urged Jolie to organise a mega event in Hollywood engaging her other colleagues in an effort to mobilise public opinion worldwide highlighting the plights and rights of Rohingyas.
"I proposed her to organise a mega event in Hollywood to create public opinion for Rohingyas as she is a big voice," he told reporters after his meeting with Jolie at the foreign ministry.
The minister referred her to the "Concert for Bangladesh of George Harrison" held in New York in 1971 that had created huge public opinion in favour of the Liberation War.
Bangladesh is now hosting nearly 1.3 million Rohingyas.