'Gossip is a kind of terrorism'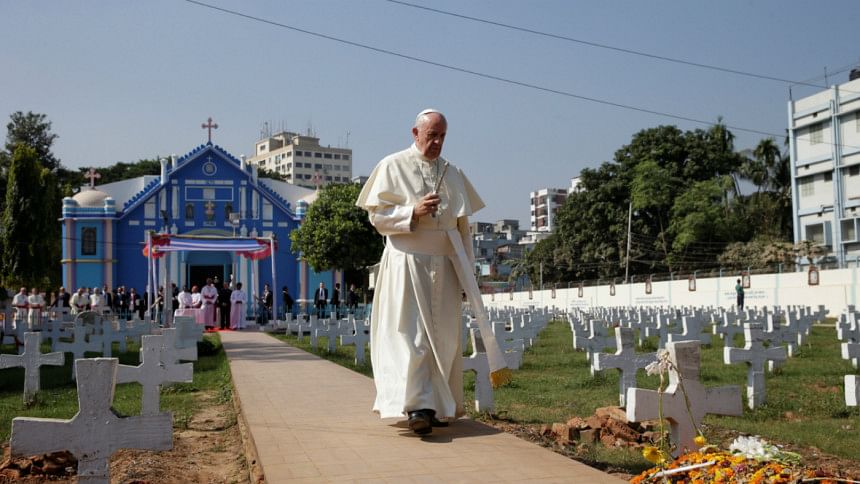 Pope Francis compared gossip to terrorism, saying it acts like bombs to destroy communities and harmony.
"Gossiping is a kind of terrorism," he told a gathering of Catholic cardinals, bishops, priests, nuns and brothers at the 16th century Portuguese church at Tejgaon in Dhaka today.
Read More: 'The presence of God today is also called Rohingya'
He said when people speak bad things about others, they don't speak in front of the persons intended to, but behind the persons.
"It is just like the terrorists who don't say I am a terrorist, but leave bombs behind. The other person then again spread the gossip," said Pope Francis, head of the Catholic Church as well as the Vatican State.
He said speaking bad things about others creates distrust and division, which eventually destroys harmony.
The 80-year pontiff advised all to hold tongue and speak honestly and openly about anything to anybody for solving any issues.
In the cases where one has difficulties speaking to the person concerned, he can take help of a good person who can settle things in private with charity.
"Hold your tongue, bite your tongue. Try to have the spirit of joy and peace," he advised all.
Pope Francis, who arrived in Bangladesh on November 30 after a three-day visit to Myanmar, said Bangladesh is one of the best examples of religious harmony.
He suggested more dialogue among all communities for harmonious living.
Pope Francis visited the Home of Compassion at Tejgaon where the Missionaries of Sisters run a home to serve the sick and physically and mentally challenged people.
Children there welcomed the pope with song and a garland.
Pope also visited the Christian Cemetery beside the Holy Rosary Church at Tejgaon.
He is scheduled to address a youth gathering at the Notre Dame College at 3:30pm today before he leaves for Rome, wrapping up the three-day visit.