Good initiative, messy management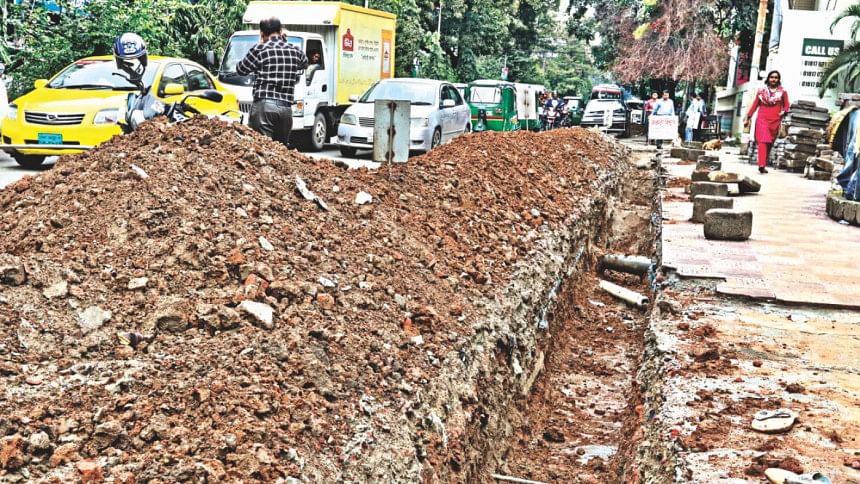 Residents of some parts of Gulshan, Banani and Baridhara in the capital have to bear the misery of dug-up trenches and muddy roads for another half a year thanks to an ongoing road and footpath improvement work.
 "The messy nature of the development work leaves piles of dug-up mud on the roads and gaping trenches for days. In addition, a lack of safety barriers is also causing terrible sufferings to the residents and commuters," said Nasreen Nahar, a Gulshan resident.
The Dhaka North City Corporation has been implementing a Tk 225cr scheme since March 2015 for road improvement, storm drainage and construction of roadside drains and footpaths in the Gulshan, Banani and Baridhara residential areas.
Around 85 percent of the total work has been completed with the rest going on in some roads in south Gulshan, Gulshan Avenue stretching from roaundabout-1 to the shooting federation complex and parts of Banani and Baridhara.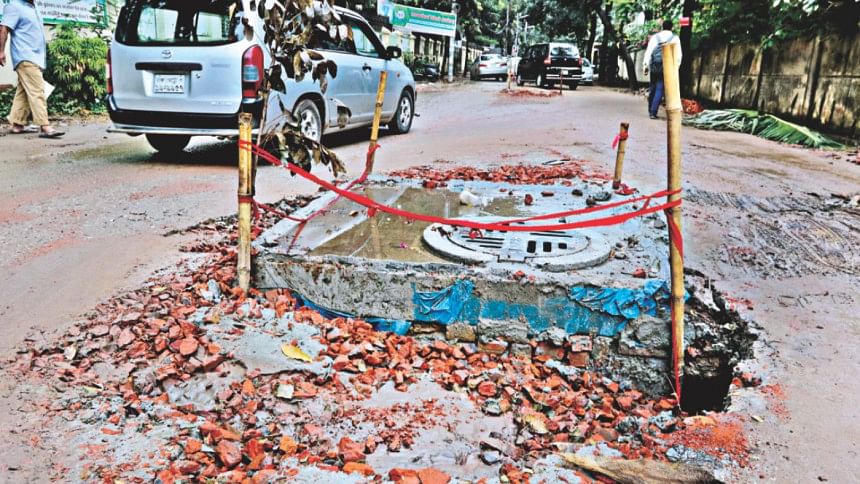 So far, 20 percent of the remaining work is done and it is due to be completed by June next year as per the approved deadline. And, 65 percent of the total project cost has so far been spent, according to a relevant official.
The minimum time required for digging a trench, laying pipes and filling with sand, compaction and placing reinforced concrete slabs on top of a manhole pit is one month, said Md Sharif Uddin, superintendent engineer of DNCC and the project director.
"We have to wait for at least three weeks for a reinforced concrete slab to harden. Meantime, we put an enclosure around it," he said.
A precast slab could save the waiting time but it does not work due to a lack of information about the position of underground service lines of other agencies, he added.
As per road digging policy of the city corporations, any agency doing the job has to remove the dug-up mud immediately, put up visible public safety barriers and signals with tinted electric lights during night time.
When pointed out that city corporations do not always comply with such rules, he said they try their best to comply.
As a result of the road improvement scheme, an outcome of the late Mayor Annisul Huq's dynamic leadership, spacious footpaths and quality roads in north Gulshan, Banani and Baridhara are already in use. The footpaths are around 12 to 14 feet wide, used by thousands every day.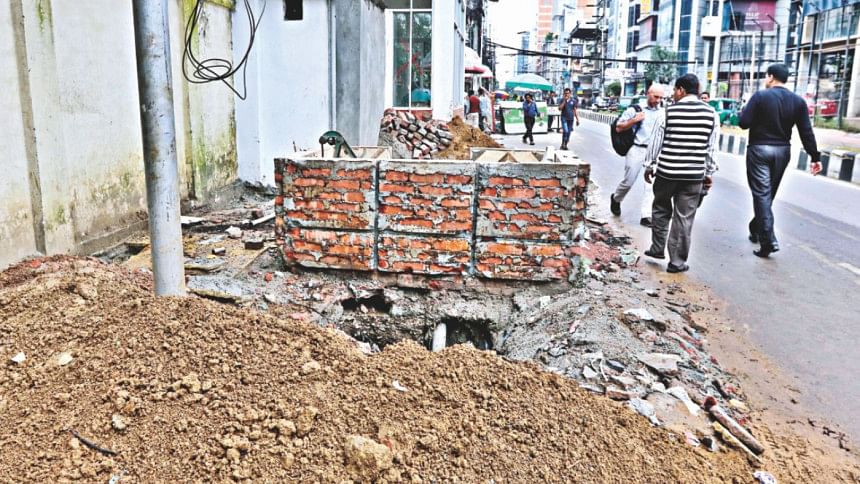 Large diameter storm drainage pipes laid out last year would discharge rainwater into Wasa drainage system across Hatirjheel and protect the three neighbourhoods against urban flooding.
Works in the scheme include improvement of 166 roads (47km), building 25km pipe drains, 67km open drains, 74km footpaths. Of the total, remaining work is going on in 40 roads.
Also, the central reservation along Gulshan Avenue will be adorned with ornamental and fruit-bearing trees to add an aesthetic look to the public passage.