Imran H Sarker released after questioning: Rab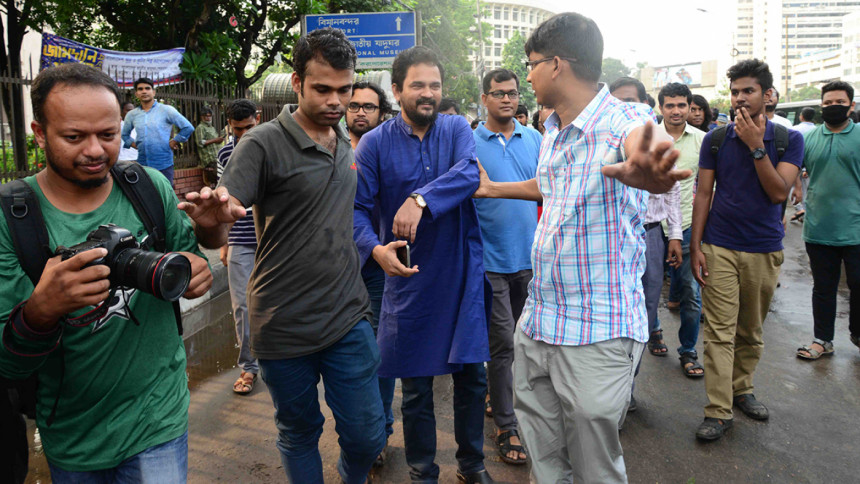 Gonojagoron Mancha spokesperson Imran H Sarker was released nearly seven hours after he was detained by the members of Rapid Action Battalion (Rab) from Dhaka's Shahbagh area this afternoon, the elite force said.
Imran was released after a questioning, Mufti Mahmud Khan, Legal and Media Wing director of Rab, told The Daily Star tonight.
Imran was picked up from Shahbagh area around 4:15pm.
Witnesses said Rab members picked up Imran when some activists of Gonojagoron Mancha at Shahbagh intersection tried to hold a rally protesting the ongoing countrywide anti-narcotics drive.
The members of the elite force also charged batons as the activists of the platform scuffled with them at that time, they said.
Gonojagoron Mancha activists said at least seven of its fellows were injured there. Five of them took primary treatment at Dhaka Medical College Hospital, said Bachchu Mia, in-charge of the hospital unit police camp.
Contacted, Lt Col Emranul Hasan, commanding officer-of Rab-3, told The Daily Star that they detained Imran from Shahbagh area on charge of "illegal gathering" and "creating obstacle to government work".
Imran did not take any permission for holding any gathering in the capital's Shahbagh, the Rab official said adding that the activists of the platform harassed Rab officials when the members of the elite force asked them to leave the area.
It is not the first time that Imran was asked to take permission for arranging programme, the Rab CO said. On last Sunday, police asked them to take permission while they tried to hold similar programme in the area, he said.
"As they once again arranged the similar programme without having any permission and harassed the Rab members, we have detained him," he said.
Lt Col Emranul also said they have taken Imran in their office for further interrogation. "Once the interrogation completed, legal action will be taken against him as per existing law," he added.
Earlier on Sunday, police foiled Gonojagoron Mancha's protest programme against the ongoing spree of gunfights that left at least 133 people dead in the last 21 days.