2 cabin crew among 3 held with gold at Dhaka airport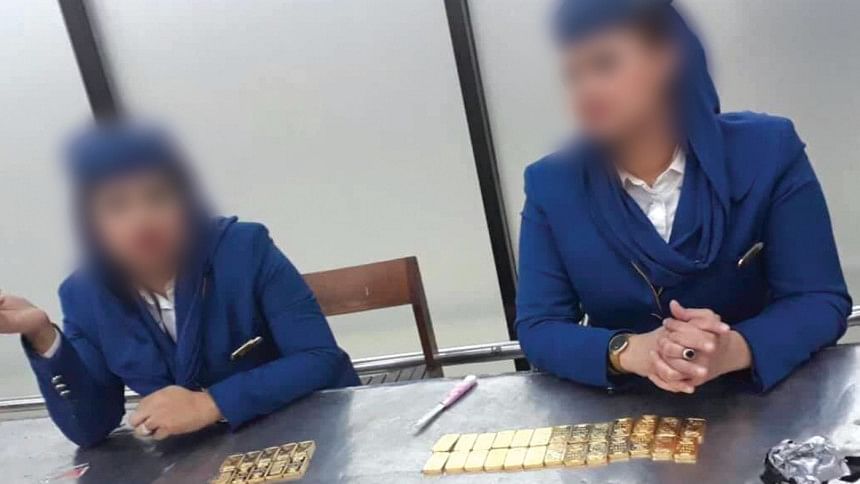 Customs officials today detained three women including two Saudi Airlines crew members from Shahjalal International Airport in Dhaka early today for carrying gold illegally.
The two cabin crew members of Saudi Airlines are Sayma Akhter and Farjana Afrose while the third woman identified herself as Razia Sultana, 50, an official of Premier Bank. All of them are Bangladeshi citizens.
Razia Sultana, 50, returned from Malaysia by flight BG-87 of Bangladesh Biman around 4:00am, said Othello Chowdhury, deputy commissioner of Dhaka Customs House.
While passing the green channel, Razia was asked if she was carrying any object, for which, she needed to pay tax but she denied.
Upon searching, "raw gold" weighing one kilogram was recovered from her possession, the customs official said.
The market price of the gold recovered from Razia is around Tk 50 lakhs, Othello also said.
Razia was handed over to Airport Police Station.
On the other hand, SV-802 of Saudi Airlines carrying Sayma and Farjana landed at the airport around 2:00am, said Alamgir H Shimul, an additional superintendent of police (ASP) of APBn.
Acting on a tip off, a team of Customs officials and APBn searched them when they were trying to pass the green channel at the airport, said the ASP.
Upon searching the officials found 26 gold bars hidden inside the under garments of Sayma and 10 of Farjana, the APBn official also said.