GK Shamim, Khaled remanded in graft cases
Police press charges against Khaled in arms case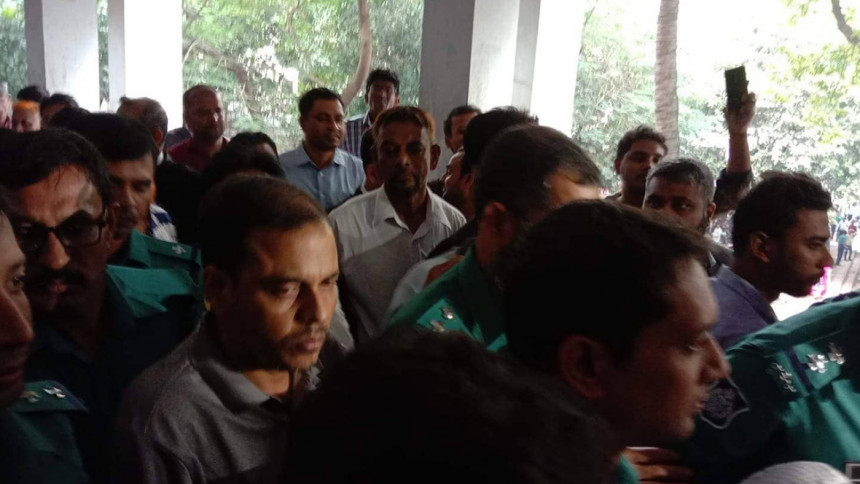 A Dhaka court today placed contractor SM Golam Kibria Shamim and expelled Jubo League leader Khaled Mahmud Bhuiyan on a seven-day remand each in two separate corruption cases.
Dhaka Senior Special Judge (in-charge) Md Al Mamun passed the order after investigation officers of Anti-Corruption Commission (ACC) produced them before the court with a 10-day remand prayer for each of them.
The court also rejected bail petitions filed by them.
Meanwhile, police today submitted the charge sheet before the court of Dhaka Metropolitan Magistrate Debdas Chandra Adhikary against Khaled in a case filed under Firearms Act.
On October 21, Shamim and his mother were sued by the ACC Anti-Corruption Commission (ACC) for amassing Tk 297.08 crore wealth beyond the known source of income.
The commission filed another case against expelled Jubo League Dhaka South Organising Secretary Khaled for amassing Tk 5.58 crore illegally.
According to the case statement, Shamim amassed immovable property worth Tk 50 crore and movable property worth Tk 39.69 crore in 2018-19.
However, ACC did not find any legal source of the wealth.
Shamim is known to be an influential contractor of the Public Works Department and other government organisations. His firm GKB & Company (Pvt) Ltd is handling 15 major construction projects of the government, involving around Tk 3,000 crore.
On September 18, Rab arrested Khaled for operating a casino. Two days later, Shamim was arrested from his Niketon residence. They were later sent to jail in separate cases.
According to the First Information Report (FIR), Khaled showed his movable property worth Tk 1.66 crore. However, the ACC believes the value of the property would be Tk 4.50 crore.
Besides, Khaled in his 2018-19 income tax file showed having immovable property worth Tk 1.32 crore. Of these, ACC did not find legal source of Tk 90.16 lakh.
Earlier, four cases were filed against Khaled, who used to run a casino in Fakirerpool Young Men's Club, under the firearms, narcotics control and money laundering acts.