DIG Mizan's bail plea rejected in bribery case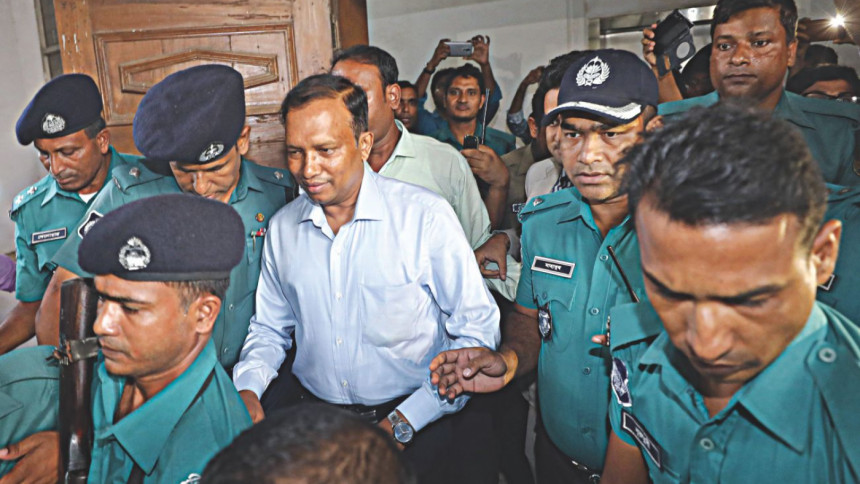 A Dhaka court today rejected a bail petition of suspended Deputy Inspector General (DIG) of Police Mizanur Rahman, in a case filed for transaction of Tk 40 lakh as bribe.
Judge KM Emrul Kayesh of Senior Special Judge's Court in Dhaka passed the order after Mizan's lawyer Ehsanul Haque Samaji submitted the petition to the court.
Anti-Corruption Commission (ACC) Public Prosecutor Mosharraf Hossain Kajol opposed the bail petition saying Mizan was directly involved with the incident.
The court also directed the investigation officer to submit the probe report of the case by January 5, 2020.
Earlier on July 21, Mizan was shown arrested in the case after ACC Director and investigation officer of the case Sheikh Mohammad Fanafilya submitted a petition to the court.
The former police high-up is currently in jail in connection with another graft case filed over acquiring over Tk 3 crore through illegal means.
The High Court on July 1 handed Mizan over to police after he surrendered before it seeking bail in the case.
The following day, he was sent to jail by special court. The suspended DIG came under scrutiny after a private TV channel recently reported that Mizan gave Tk 40 lakh to ACC Director Khandaker Enamul Basir to get clean chit in a corruption case.
The bribery case was filed by Fanafilya against Mizan, and Basir who was eventually suspended by the graft watchdog under the Money Laundering Prevention Act.
DIG Mizan, an additional commissioner of Dhaka Metropolitan Police, was withdrawn on January 9 last year following allegations of threatening a news presenter of a private television channel. Mizan allegedly picked up the 25-year-old woman in July 2017, and then forcibly married her.