DU students protest attack on quota demo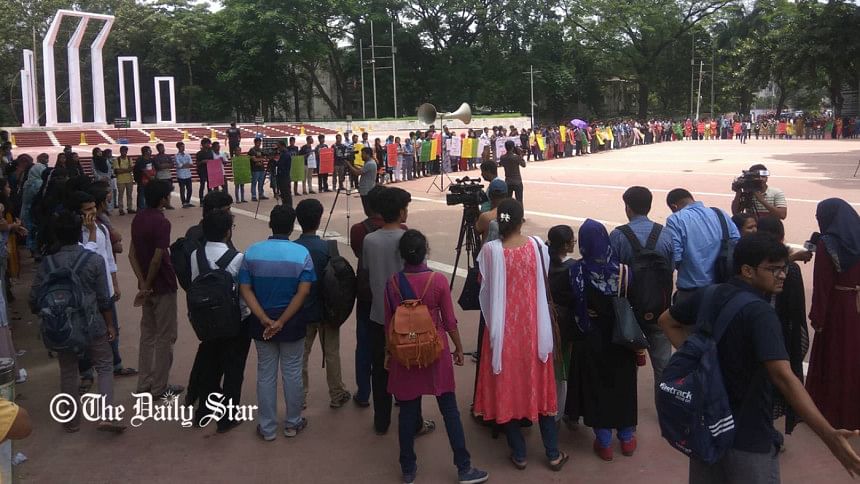 Several hundred students of Dhaka University today protested the recent attack on students and teachers of different universities.
The protesting students under the banner of "All combined departments" formed a human chain at Central Shaheed Minar in Dhaka this morning demanding exemplary punishment for the attackers.
Holding various placards protesting the recent attacks, they demanded the release of quota reform leaders who were arrested.
They also demanded the release of the students, who are now in jail, as well as ensurance of safety for the students at all campus, including Dhaka University.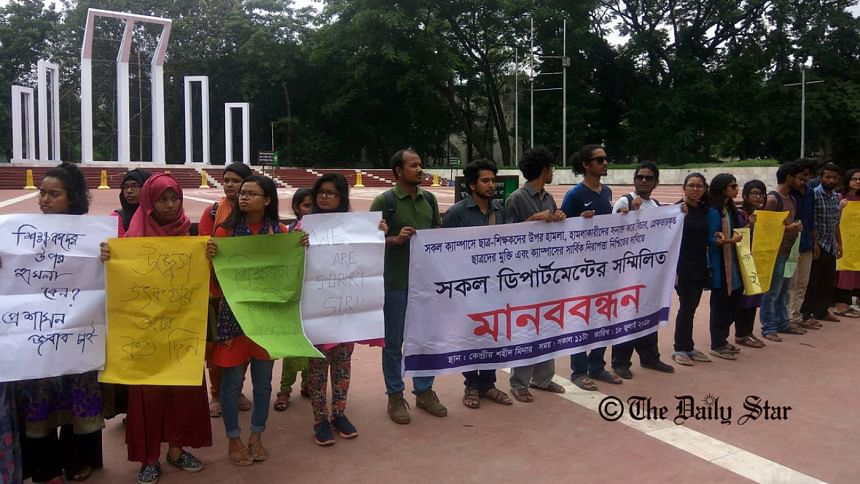 "We urge the government to withdraw all the cases filed with different police stations during quota reform movement in April," said Nahid Islam, a student of DU Sociology Department, at the programme.
Those who carried out the inhuman attacks on students and teachers at DU and Rajshahi and Chittagong universities will have to be identified and brought to justice, said Nahid.
Rushad Faridi, assistant professor of DU Economics Department, was also present in the programme.
Besides, students of DU History Department formed a human chain programme at the Aparejeo Bangla premises around 11:00am protesting the recent attack on their fellow student Tanzir Hossain Sarker and demanding safe campus for students.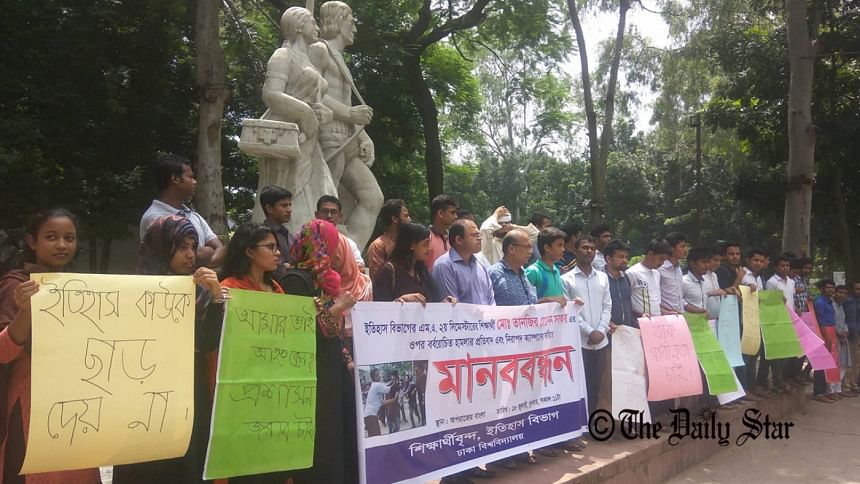 On Sunday, three teachers of Dhaka University were assaulted by some members of Bangladesh Chhatra League (BCL) on DU campus when they tried to save students from attacks.
The three -- Prof Fahmidul Haq, and Associate Professor Abdur Razzaque Khan and Associate Professor Mohammad Tanzimuddin Khan -- had joined demonstrations of students demanding a safe campus and immediate release of detained leaders of the quota reform movement.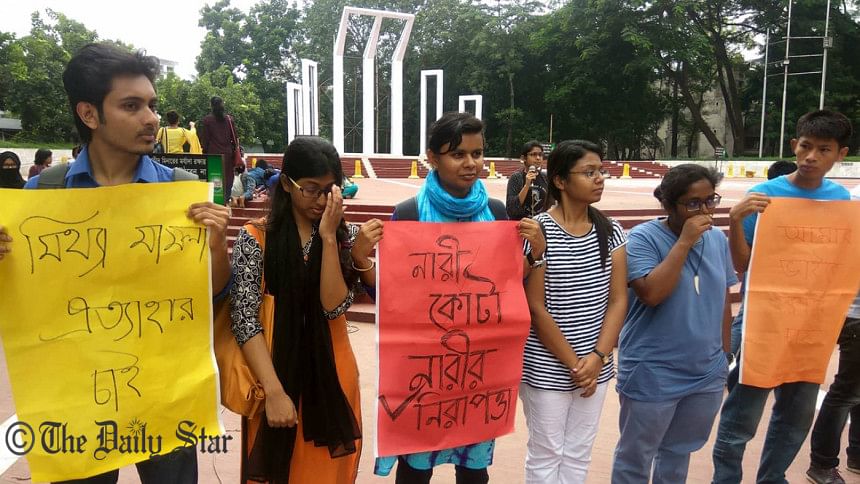 On June 30, seven members of the quota platform, including its joint convener Nurul Haque Nur, were beaten by alleged BCL activists in front of the DU Central Library.
The attack took place when the quota reform leaders were taking preparation to hold the prescheduled press conference in front of the DU Central Library building to brief their next course of action as the government failed to issue a gazette notification by their deadline.
Since then, the pro-Awami League student organisation continued their attacks on quota reform leaders on the campuses of different universities.  
In April, students of public and private universities across the country took to the streets demanding reform in the quota system. The protesters blocked key points in the capital and roads and highways elsewhere.
At present, 56 percent of government jobs are reserved for candidates from various quotas, while the remaining 44 percent draw applications from the merit list.
Of the 56 percent, 30 percent are kept for freedom fighters' children and grandchildren, 10 percent each for women and people of districts lagging behind, five percent for members of indigenous communities, and one percent for differently abled people.