Of courage that encourages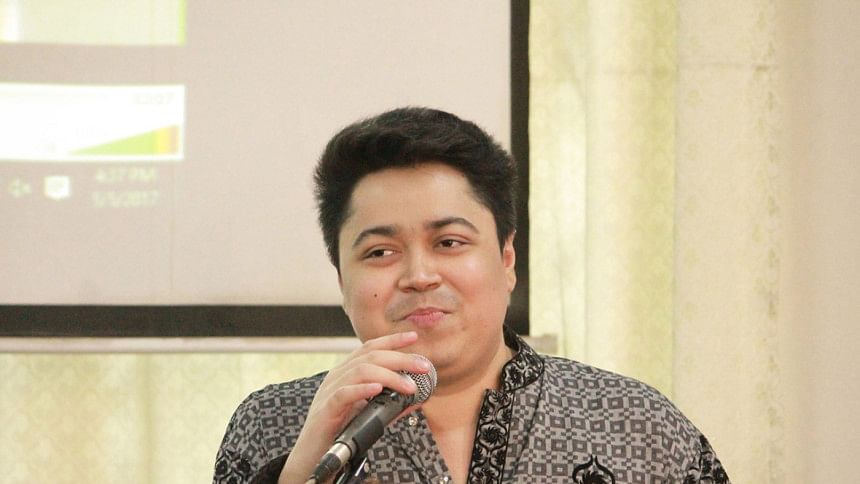 "You have this one life. How would you like to spend it?"
Before you answer this, let me tell you a story.
This is the story of Nur-A-Shafee Ahnaf, a student of Dhaka University who has been diagnosed with Chronic Myeloid Leukemia (CML), a type of blood cancer.
This is such a story of courage that encourages others.
Like any other cancer patients, Ahnaf, 22, could also have become devastated mentally. However, he was never disheartened for being diagnosed with the deadly disease. Instead, he rushed to the hospitals and residences to stay beside other cancer patients and gave them much-needed courage by sharing his personal experiences with them.
Even between his constant battle with cancer, chemotherapy, physical illness and weakness, he managed to inspire himself to move forward, and formed a voluntary organisation named 'Leukemia and Lymphoma Society of Bangladesh'. He is the founder president of the organisation.
Ahnaf was diagnosed with CML in 2013 when he was a HSC first-year student of Dhaka Residential Model College. Initially, he did not know about being diagnosed with the disease, although his family members and friends knew about it.
Sometimes he would see his father, a government official, and mother, a school teacher, crying. At those times, since he did not know the reason for their grief, he just tried to give comfort to his parents. It was beyond his imagination that his life-threatening disease was the main cause for their tears.
After some days, one of his acquaintances shared a post on Facebook seeking blessings for Ahnaf and that was when he first came to know about his illness.
"It was a big shock to me then," said Ahnaf.
Ironically, his birthday is on September 22, the very day World CML Day is being observed across the globe, he said.
During his college years, he was actively involved with various voluntary and cultural activities. He was a regular debater and vice president of the debate society at his institution as well. 
After being diagnosed with the disease, he used to visit India for treatment often where he met many poor cancer patients and intimately exchanged his views and experiences with them. There he saw that a number of patients could not bear the cost of expensive chemotherapy due to their poverty and got disappointed at one stage, while their family members gave up hope.
It hurt Ahnaf a lot and he felt a need to do something for the people who were living with blood cancer. At least, with an aim to make them happy, it is possible to stand by those patients when they were disappointed with life.
With this thought in mind, Ahnaf formed 'Leukemia and Lymphoma Society of Bangladesh' along with some enthusiastic cancer patients. They used to provide information about medical related issues like doctors and hospitals to go for treatment, as well as encouraging the patients mentally and arranging their rehabilitation.
The organisation grew day by day, and later, the members of the organisation started contacting different banks, insurance and business establishments or individuals in order to support the poor patients. In this way, it has so far helped around 50 poor patients. Apart from this, they also help cancer patients in getting allowance from the Social Welfare Department.
Initially, Ahnaf's organisation started its journey with patients suffering from blood cancer, but it is now working for all types of cancer patients.
Beginning with 12 to 15 cancer patients, the organisation has now around 8,000 voluntary members including the patients, their family members and well-wishers.
"For any primary medical information regarding the disease, anyone can visit the organisation's Facebook page," said Ahnaf.
In the beginning of May this year, a relative of a cancer patient opened Bangladesh Thalassemia and Cancer Hospital in Dhaka's Banasree. Ahnaf is now working there as the director of patients' care.
The hospital authorities provide medicines at low price and arrange food and accommodation for patients from remote areas at an affordable price there, Ahnaf said.
Ahnaf is now a final year honours student of economics at Dhaka University.
Despite fighting with cancer for long, Ahnaf has achieved very good academic results. He obtained GPA 5 in his SSC examinations and secured 76 th position in the merit list of HSC exams under Dhaka Board. He then got admitted to the Economics Department of Dhaka University and is now a final-year honours student there.
Always cheerful and energetic, Ahnaf loves to keep himself busy with various activities.
Ahnaf hopes that the government willbe very kind to all CML survivors and would help them to continue their lifelong treatment with expensive drugs and chemotherapy.
So, let's return to where we began this story. 
"You have this one life. How would you like to spend it?" Ahnafinquired.
"Apologising? Regretting? Hating yourself? Blaming others?"
"Just forget everything, be strong in mind and live it."
Being strong has become Ahnaf's motto inliving his life ever since he was diagnosed with CML.
And that is how he wants to live the rest of it.