Coronavirus fears: DU, CU, Buet, 4 other universities suspend academic activities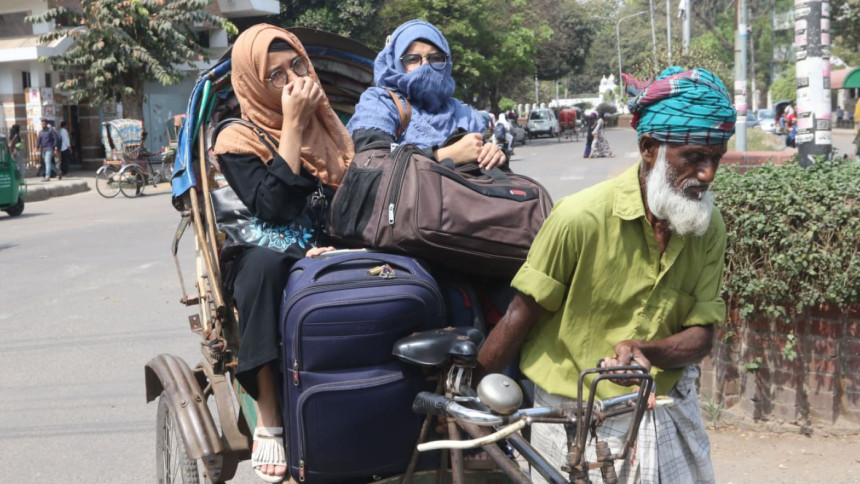 Authorities of seven top public universities today suspended all academic activities aiming to prevent the spread of the coronavirus (COVID-19).
The announcement came during emergency meetings at the universities after the government took decision to close all educational institutions from March 18 to 31.
The seven public universities are: Dhaka University, Chittagong University, Bangladesh University of Engineering and Technology (Buet), Jahangirnagar University, Rajshahi University, Jagannath University and Shahjalal University of Science and Technology (SUST).
The activities at DU and JnU will remain suspended until March 28 and March 31 respectively, our campus correspondents report.
DU Vice-chancellor Prof Md Akhtaruzzaman headed a meeting attended by deans, departmental heads and hall provosts in the morning.
Meanwhile, Rajshahi University and Jahangirnagar University will remain closed until March 31 and April 2 respectively.
Soon after DU, RU authorities held a meeting around 12:30pm where it decided that all residential halls would remain closed from March 18 to 31.
Residential students were asked to vacate the halls by 4:00pm on March 18, our RU correspondent reports quoting Ananda Kumar Saha, pro vice-chancellor of the university.
Students of Jahangirnagar University have been asked to vacate halls by 11:00am on March 19. Offices on campus will remain closed from March 22 to April 2.
Emergency services would be available during this period though, said Pro Vice-Chancellor (Administration) Prof Md Amir Hussain.  
"No public gathering (programmes of concerts) and visitors are allowed on campus during this period. We will continue our cleanliness programme," he added.
In a notice, Buet authorities asked all students to leave the campus as the residential halls will remain shut from the afternoon on March 18.
Academic activities of Chittagong University will remain closed from March 18 to April 9.
The decision was made at an emergency syndicate meeting this afternoon, according to a letter.
Administrative activities will remain closed from March 29 to April 2, reads the letter.
Residential students were asked to vacate their respective halls within Wednesday by 2pm, the letter said.
SUST Registrar Md Ishfaqul Hussain told our Sylhet correspondent the decision to close the university was taken during an emergency meeting this afternoon.
During the time, all student halls will remain open and resident students were asked to stay safe, he said.