Dhaka's metro rail construction starts
Road Transport and Bridges Minister Obaidul Quader today inaugurated the construction of the first part of the elevated viaduct and nine stations of the country's much talked about metro rail in Dhaka.
The 11-km first phase metro line stretches from north Uttara to Agaragaon.
Today begins the visible physical construction of work of the much-awaited metro rail, said Sarwar Uddin Khan, a deputy general manager of the metro rail project.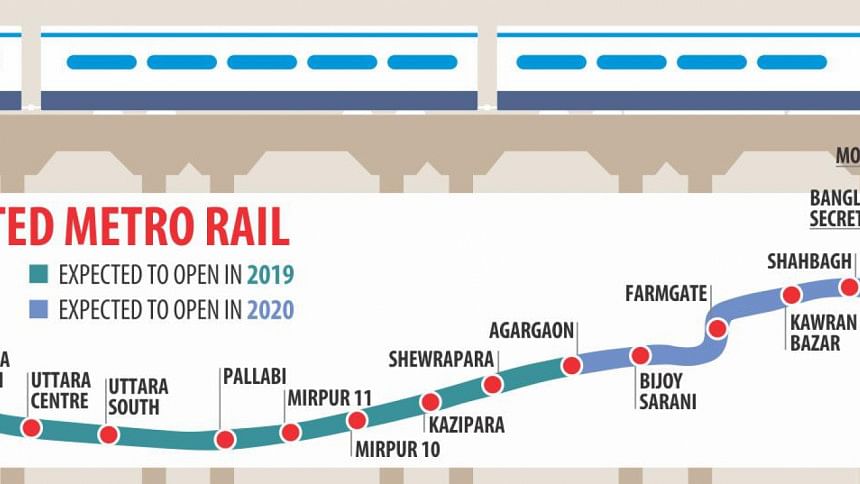 Among the nine metro stations, three are in Uttara, two in Mirpur and one each in Pallabi, Kazipara, Sheorapara and Agargaon.
In May this year, the metro rail project authorities signed two contracts for construction of viaduct and stations from north Uttara to Pallabi and from Pallabi to Agargaon.    
The 20-km metro rail will have a total of 16 stations through Uttara, Mirpur, Rokeya Sarani, Khamarbari, Farmgate, Sonargaon Hotel, Shahbagh, Doel Chattar and Topkhana road.        
Soil tests, along the metro route, including the tests for the 16 stations, of the the Tk 22,000 crore project had already been done, said officials.
According to Japan International Cooperation Agency (Jica), 14 trains would operate every three minutes and carry 60,000 passengers every hour in both directions.
The estimated time to travel the 20km distance, from north end of Uttara to Motijheel, is 35 minutes. The trains would have six cars each, all air conditioned.