Level playing field not ensured yet: Ishraque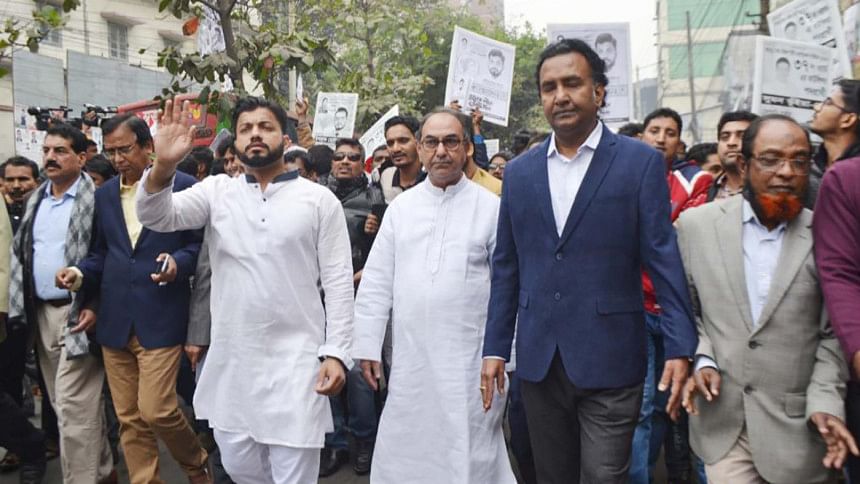 Bringing allegation of obstructing electioneering, BNP-backed mayoral candidate Ishraque Hossain of Dhaka South City Corporation (DSCC) elections today called upon the Election Commission to ensure level playing field for all candidates.
"Activists of the ruling party candidate carried out attacks on my followers yesterday. They are still hindering my supporters and councillor aspirants in conducting election campaign in my electoral area. Is it called a fair election atmosphere?" Ishraque said this while addressing an election rally in the Old Part of Dhaka this noon.
He also claimed that the level playing field for holding the election in a free, fair and credible manner has yet been ensured in the DSCC area.
Addressing the rally, the BNP candidate sought votes for him with a number of pledges including rebuilding the capital as a livable city.
Meanwhile, Awami League candidate Fazle Noor Taposh, during his election campaign, blamed Ishraque for launching an attack on his activists.
When asked about the claim of Taposh, Ishraque said who have carried out the attack and when all the proofs are in his (Ishraque) possession.
Some top-ranking leaders of BNP including Khandaker Mosharraf Hossain, convener of the election steering committee, its coordinator Mirza Abbas, member secretary Abdus Salam also took part in the election campaign.