Cop closed over 'torturing bank official'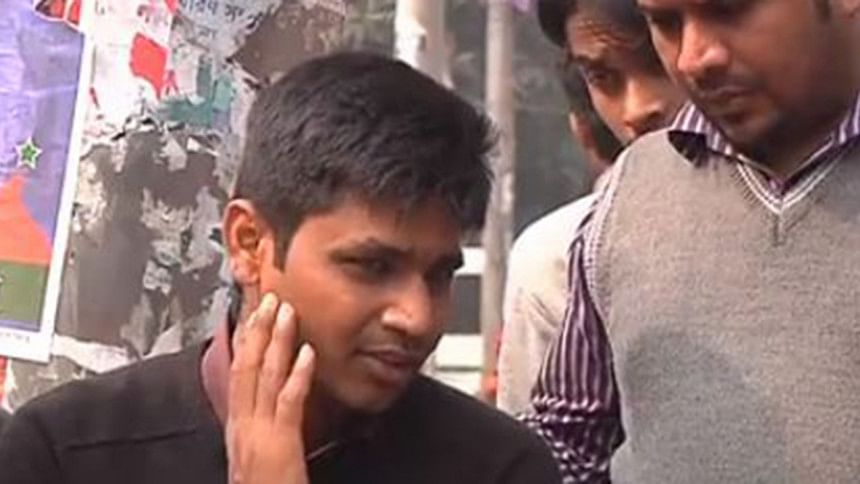 A policeman has been closed for allegedly torturing a Bangladesh Bank official and threatening to implicate him in a lawsuit if he fails to pay a Tk 5 lakh bribe.
Sub-Inspector Masud Shikder of Mohammadpur Police Station was closed and attached to Tejgaon Division, said Hafiz Al Faruk, assistant police commissioner of Mohammadpur Zone, today.
"Investigation against him [the SI] is underway. Necessary actions will be taken against him following the probe report," Hafiz said.
Earlier on Saturday, Golam Rabbi, 28, an assistant director of Bangladesh Bank, alleged that he was allegedly tortured by SI Masud for refusing to pay bribe of Tk 5 lakh.
READ MORE: Cops 'torture' bank official for Tk 5 lakh
The incident quickly gathered momentum in the social media after being reported.
The SI and some constables intercepted the BB official while he was returning home around 11:00pm, Rabbi, also a former news anchor at a private television channel, claimed.
বাংলাদেশ ব্যাংকের এক কর্মকর্তাকে ৫ ঘণ্টা আটকে রেখে নির্মম নির্যাতনের অভিযোগ পুলিশের বিরুদ্ধে। ৫ লাখ টাকা দাবি করে না পেয়ে ক্রসফায়ারে হত্যার হুমকিও দিয়েছিলেন মোহাম্মদপুর থানার এস.আই মাসুদ সিকদার-

Posted by somoynews.tv on Sunday, 10 January 2016
"The SI first asked me 'how much my job was worth'. He then calculated it himself to be Tk 25 to 30 lakh," said Rabbi. "You are in a good position. So, pay us Tk 5 to 6 lakh and go away. Otherwise, a case will be filed against you for carrying Yaba pills," Rabbi quoted the SI as saying.
The cops took Tk 10,000 and a debit card from him and told him to call relatives for arranging the money, he further alleged.
The policemen then kept on slapping and kicking him whilst the pickup travelled on different streets in the area. The policemen released him around 2:30am, Rabbi said.
Rabbi later took primary treatment at Dhaka Medical College Hospital and filed a complaint with Mohammad Police Station.