Comilla city polls marred in reports of rigging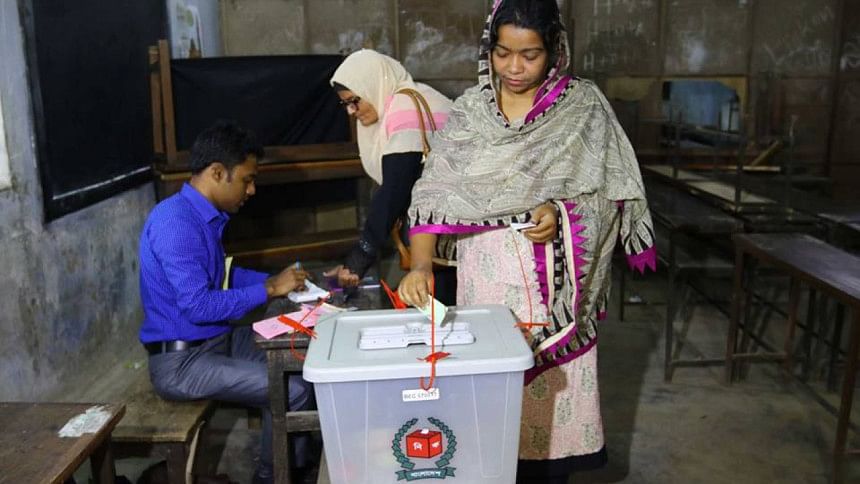 Though the Election Commission sounded immensely satisfied with the Comilla City Corporation elections, there have been reports of rigging and irregularities.
Mostly ruling party men were seen in action – stamping ballots and forcing the voters out – in at least four of the total 103 voting centres in Comilla city.
At Comilla City College, ruling party men blasted two crude bombs and ran amok in the morning. They stamped ballots in favour of their candidate inflicting fear.
When The Daily Star asked one of the men what they were doing, a man said: "Don't disturb, don't you understand what is happening?"
The situation at two other voting centres— Gobindapur Govt Primary School and Shaktala Govt Primary School – were similar. AL supporters were seen stamping ballots.
"They forcefully seized ballot papers from me. What can I do as I am alone," said Kazi Selim Zahangir, a polling officer at Gobindapur Govt Primary School.
At Ishak Govt Primary School, about two dozen people locked up the centre and stamped ballots inside. They lurched at journalists when the reporters approached them with cameras.
"The magistrates, police and returning officer have been informed of the occurrence, but nobody is taking any action" Shekhor Goswami, the presiding officer on duty told The Daily Star.
The mayoral race has virtually turned into a "battle of prestige" for AL candidate Anjum Sultana Sima and BNP's Monirul Haque Sakku for some reasons. In the maiden Comilla city polls five years ago, Sima's father AL-backed Afzal Khan faced a humiliating defeat to Sakku.
Besides, 114 candidates are contesting for 27 general councillor posts while 41 women for nine reserved seats.
A total of 207,566 voters -- 102,447 males and 105,119 females -- are expected to exercise their voting rights at 103 polling stations to elect their city mayor, councilors.
Members of law enforcement agencies, including police, Rab and BGB, have been deployed to maintain the law and order situation in the election area.