Kalurghat Bridge: On Borrowed Time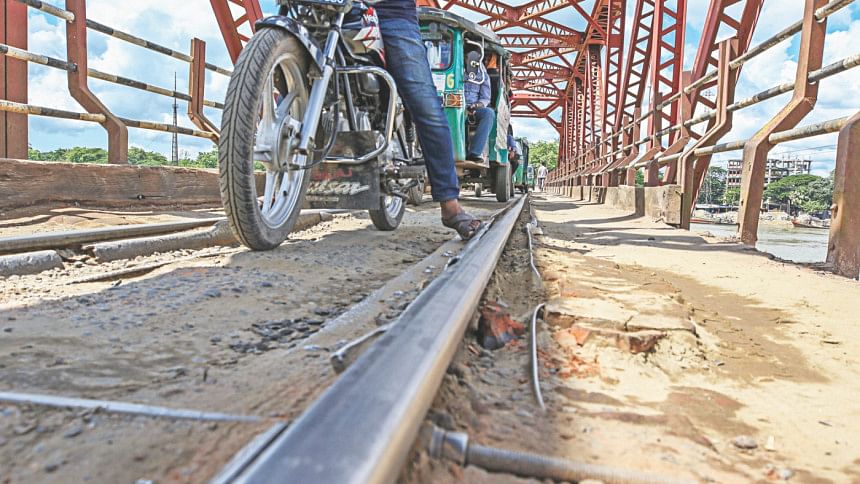 With British era Kalurghat Bridge over the Karnaphuli river becoming unsafe during the last two decades, Chattogram residents have long been demanding a new bridge to ease their commuting woes.
Around 10 lakh people from Boalkhali, east of Patiya, south of Rangunia upazilas and Chandgaon and Mohora areas of the city have no alternative to the bridge.
Every day, hundreds of vehicles, plying the bridge, are facing difficulties as the deck and iron fencing on its both sides have become worn-out and numerous potholes developed on it, giving way to mishaps.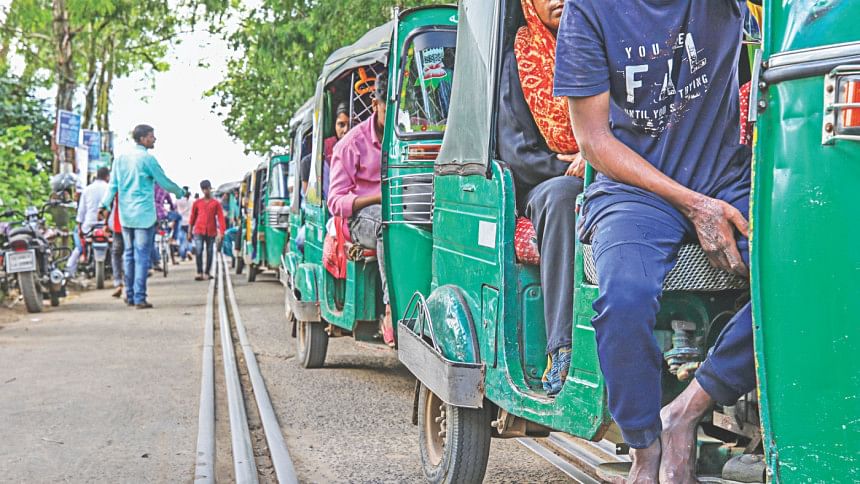 As a result, long tailbacks on the bridge -- which links the port city with south Chattogram -- have become a common phenomenon. The tailbacks often extend way beyond the bridge's entrance point.
Bangladesh Railway (BR) is entrusted with looking after the road and rail bridge -- 239 metres in length and 3.05 metres in width. Traffic is halted when a train crosses the bridge.
"While passing through the bridge, I feel my safety is at stake," said Shamsul Haque from Boalkhali's Saroatoli.
BR has put up signboards at both ends of the 89-year-old bridge, terming it risky. The owning agency has banned movement of vehicles weighing more than 10 tonnes each. Pedestrians' movement has also been prohibited there.
Contacted, Nasir Uddin Ahmed, general manager of BR (east zone), said the bridge exceeded its lifespan around 29 years ago.
During a recent visit, this correspondent found at least 81 potholes on its surface and cracks around the fishplates (metal bar that is bolted to the ends of two rails to join them together in a track).
When any vehicle gets stuck there, it creates a long tailback, said locals. Such a situation has become common now-a-days, causing immense sufferings to commuters, they added.
Abdul Hamid from Shakpura in Boalkhali said couple of months ago a pregnant woman, who was being taken to Chattogram Medical College Hospital on a CNG-run auto-rickshaw, felt labour pain and gave birth to a baby while stuck in traffic.
Mohammad Rashed, an auto-rickshaw driver, said a tailback usually lasts for half-an-hour to two hours.
Pijush Nandi of Gomdandi village added, "Due to gridlock, my daughter was 30 minutes late for an SSC exam this year."
Around 10,000 vehicles use the bridge on a daily basis, according to NA Enterprise, a firm that took lease of the bridge from BR to collect toll.
When asked about allegations that overweight vehicles also ply the bridge regularly, Selim Uddin Jahangir, in-charge of NA Enterprise, denied it.
LOCALS DEMAND ROAD, RAIL BRIDGE
Meanwhile to mitigate the crisis, the government is considering a new rail bridge in the area, but locals and a public representative want a road and rail bridge instead.
At a recent press conference at Chattogram Club, lawmaker Mainuddin Khan Badal placed the demand. Badal, also executive president of Jatiya Samajtantrik Dal, said, "To meet the demand, I will join the ruling Awami League, if necessary."
Locals said along with rail communication, they also want a road over the bridge to travel to and from the city.
Contacted, Railways Minister Nurul Islam Sujan told The Daily Star that a feasibility study is underway to build a rail bridge in Kalurghat. "The study will be completed in December," he said.
About locals' demand, the minister said earlier a proposal to construct a road and rail bridge was rejected by Ecnec. He could not provide further details.
Kalurghat Bridge was constructed as a rail bridge between Janalihat and Gomdandi railway stations in 1930. It went into operation the next year. It was turned into a road and rail bridge in 1962.
Apart from other vehicles, a pair of passenger trains of Chattogram-Dohazari route plies the bridge daily while another pair of oil-wagon trains uses it to go to Dohazari Peaking Power Plant every alternate day.
Bangladesh Railway sources said BR labeled it risky in 2001. A major repair was conducted in 2004. Later, its condition deteriorated and a team from Chattogram University of Engineering and Technology declared the bridge unsafe in 2011.