BYLC hosts second career fair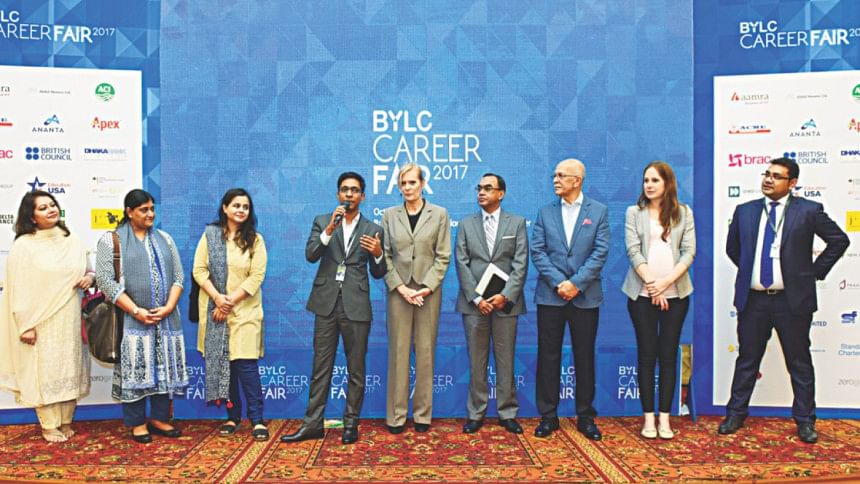 Bangladesh Youth Leadership Center (BYLC) hosted the second BYLC Career Fair at Bangabandhu International Convention Center in the capital yesterday, bringing together 300 BYLC graduates and 30 leading private and non-profit sector employers, who are looking to recruit talented young people for entry level jobs.
The fair was organised by BYLC's Office of Professional Development, which is supported by The Aga Khan Foundation (Bangladesh) and Rizwan Adatia Foundation, says a press release.
While inaugurating the event, Dutch Ambassador to Bangladesh Leoni Cuelenaere praised BYLC for "doing a remarkable job in instilling in youth critical thinking and leadership skills."
HR representatives from participating organisations spoke to BYLC graduates throughout the day, assessed their resume, and took on-the-spot interviews of suitable candidates.
The fair also featured two panel discussions on preparing for the world of work and making informed career choices, where Renata CEO Kaiser Kabir, Manusher Jonno Foundation Executive Director Shaheen Anam, Dhaka Bank CEO Mahbubur Rahman, BYLC Board Member Pial Islam, Praava Health Founder, Managing Director and CEO Sylvana Q Sinha, and Berger CEO Rupali Chowdhury spoke.
The discussions were moderated by BYLC Chairperson Akhter Matin Chaudhury and BYLC President Ejaj Ahmad.