Buzzword innovation at Leadership Summit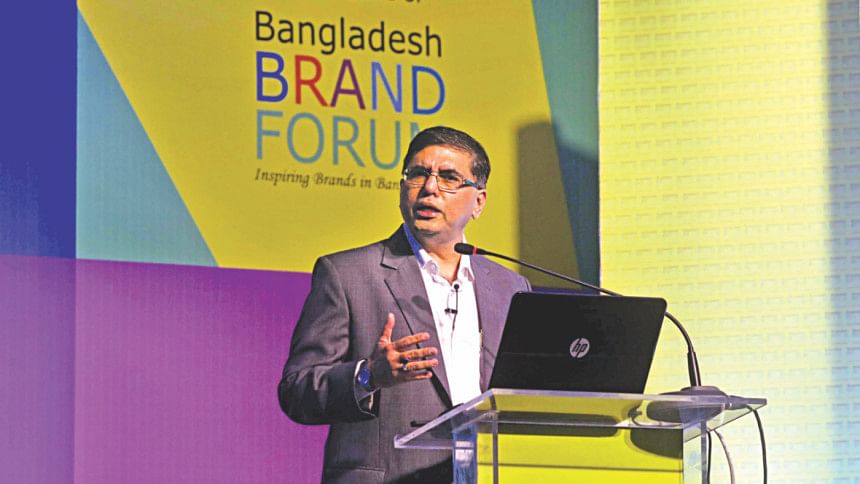 Innovation is the number one challenge for the leaders, and innovations fail because of inertia of the people involved, said Amitava Chattopadhyay, the GlaxoSmithKline chaired professor of corporate innovation.
"Getting people on board is the crucial first step," he said at the Leadership Summit in the capital's Radisson Blu Water Garden Hotel yesterday.
To get success, there should be a vision, communicated through multiple channels, he said.
"Success is innovation…innovation is here to stay," he said at the event hosted by Bangladesh Brand Forum and presented by American International University-Bangladesh (AIUB).
The summit is one of the largest gatherings of enthusiasts, aiming at materialising country's huge potential through leadership drive, according to the organisers.
The theme of the daylong fourth-edition of the summit is "Realising Potential", powered by Beximco, and The Daily Star was the youth engagement partner, where five renowned business and marketing leaders from across the globe joined to share leadership experiences and insights.
Sanjiv Mehta, CEO and MD of Hindustan Unilever Ltd, and executive vice-president of Unilever South Asia, emphasised the need for never losing the sight of the purpose and one should do what he or she loves.
"Speed and agility are what matters now in the changing environment," he said.
Terming himself as a digital immigrant, he said he learns from the millennials who are digital native.
Ripa Rashid, managing partner at Hewlett Consulting Partners, and senior vice-president at the Centre for Talent Innovation, spoke on "Growing Global Executives: the New Competencies".  She said there is a new urgency because of the declining expat model of leadership -- the need to build local talents.  Global talents need to project credibility globally, drive value locally and win sponsorship back in headquarters, vital for a leader as it helps ensuring overall success in the VUCA (volatility, uncertainty, complexity, and ambiguity) world, she added.
Tom Cummins, owner and founder of Leading Ventures BV, emphasised on context, complexity and connectedness. He suggested spending time in developing and cultivating people.
Alia Khan, founder and chairperson of Islamic Fashion and Design Council, shed light on the importance of women in corporate leadership and discussed progressive elaboration when people are unsure about what the new project outcome would be.
A discussion on "Realising potential: Bangladesh perspective" was also held with Arif Dowla, managing director of ACI Ltd; Abrar A Anwar, CEO of Standard Chartered Bangladesh; Munawar Misbah Moin, group director of Rahimafrooz, and Syed Ferhat Anwar, a professor of Dhaka University, at the panel.
Dowla said there should be a plurality of mindset to co-create success.  Prof Anwar said one has to respect the system and should be value driven. He said leaders should be corporate athletes, because fitness is important for daily performance.  Moin said reliability is the core quality of leadership and consistency comprises reliability.
An initiative of Bangladesh Brand Forum, Leadership Summit is also supported by WIL and MSB as strategic partners.
Rahimafrooz Solar is its event partner, Masthead PR the PR partner, Webable the social media partner, Etihad Airways the airlines partner, Real VU the technology partner and FireFlame Media is the AV partner.