Books on films draw attention at fair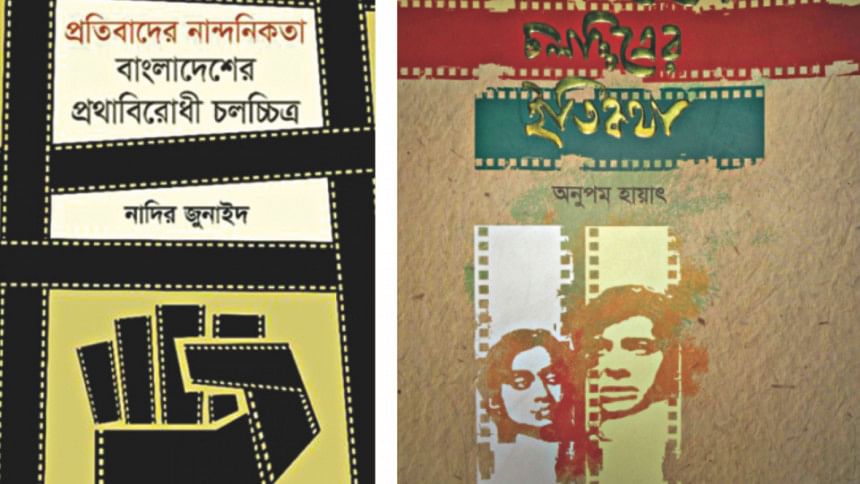 The Ekushey book fair is an event unlike any other. It can satisfy anyone's literary palate with a wide array of selections.
Durjoy Chakraborty, a final-year student at Dhaka University, was going through books on films at the Suhrawardy Udyan premises of the fair yesterday.
"I like to read books on films and the history behind moviemaking, which will help me to think critically while watching a movie," said Durjoy.
He bought "Pratibader Nandanikata: Bangladesher Prothabirodhi Chalacchhitra" (the aesthetics of protest: unconventional films of Bangladesh) by Dr Naadir Junaid from Janantik publication house.
"The book will help readers understand how cinema can be a tool to depict various injustice and irregularities of the society and grow a political consciousness," said Junaid. The book offers an in-depth analysis of films including "Abar Tora Manush Haw" by Khan Ataur Rahman, "Ghuddi" by Saiyad Salauddin Jaki and "Matir Moyna" by Tareque Masud.
Tareque's "Chalacchhitralekha: Chitranatya o Gaan" is generating much enthusiasm among film aficionados. The book is published by Prothoma Prokashani. Also, a new edition of "Bangladesher Chalacchhitrer Etikotha" by film critic Anupam Hayat by Palal Prokashani drew readers' attention.
Film students, enthusiasts and curious readers were also seen buying "Bangladesher Chalacchhitra Shilpe FDC'r Vumika" by Md Rajibul Hasan and "Bangladesher Prekkhagriha" by Jannatul Ferdous Jhuma, published by Bangladesh Film Archive (BFA).
Though there were books on films available at the fair, the number of research based books is not satisfactory, said readers and publishers.
"Bangladesher Chalacchhitra: Posterer Bibortan", a book on the evolution of movie posters, written by Mosharrof Hossain Mamun and Tania Sultana under the supervision of Prof Fahmidul Haq of DU, published by BFA, is among the few.
Prof Fahmidul said his book on contemporary films of the country titled "Chalacchhitra Path" from Adarsha Publication will hit the fair soon.
"We need more books on cinema, which will also help students [of film studies]," said AJM Shafiul Alam Bhuiyan, founding chairman of television and film studies department at DU.
On the 15th day of the fair, 143 new books arrived.