A blend of joy and sorrow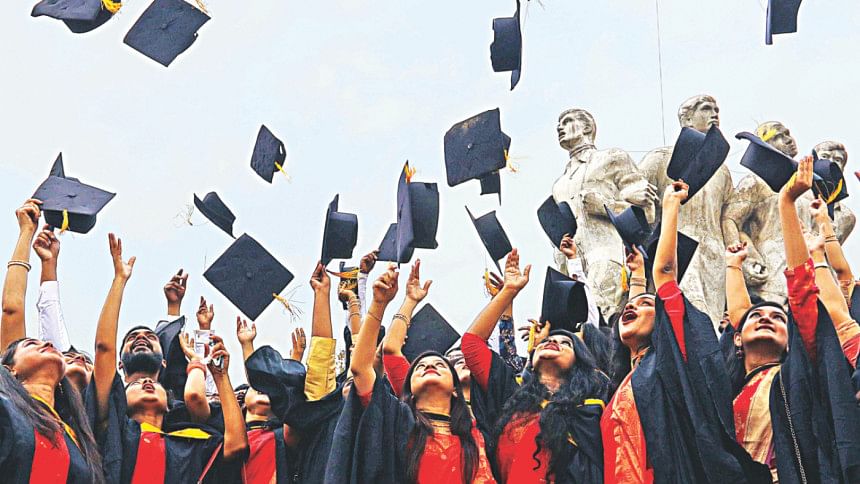 It was a day full of laughter, hugs and celebration and above all pride for the students of Dhaka University as they have reached a milestone of their life.
The university wore a festive look yesterday while thousands of students wearing graduation gowns and smiles participated in their convocation.
There was an air of melancholy too, since the graduating students were preparing to bid farewell to their beloved campus.
"I'll miss my friends and teachers a lot. I have so many fond memories here," said Forrukh Mahmud of history department. "Yes I'm happy, but at the same time I feel sad."
Romel Milky, a graduate of political science, was busy taking pictures with his classmates. "I will cherish the memories forever," he said. Like Romel, 17,875 graduates and postgraduates received their degrees at the 50th convocation of Dhaka University yesterday. President Abdul Hamid, chancellor of the university, inaugurated the event at DU central playground.
Eighty students received gold medals for their outstanding results while 61 researchers were conferred with Doctor of Philosophy (PhD) degrees and 43 got Master of Philosophy (MPhil) degrees.
"It's a joyous moment as I got recognition of my hard work," said Marzia Rahman. She received Dilnasheen Khanam Memorial Gold Medal.
Prof Amit Chakma, Bangladesh-born academician and vice chancellor of Western University, Canada, was the convocation speaker.
The noted academician was honoured with "Doctor of Science (ScD)" degree for his outstanding leadership role in education and research.
"I am proud to be your classmate," he said.
Citing Tagore's song "Jodi tor dak shune keu na ashe tobe ekla cholo re" (If no one responds to your call, then go your own way alone), he told the students, "You alone can make a difference".
DU Vice Chancellor AAMS Arefin Siddique urged the graduates to uphold the dignity of the university.