Bathed in colours of spring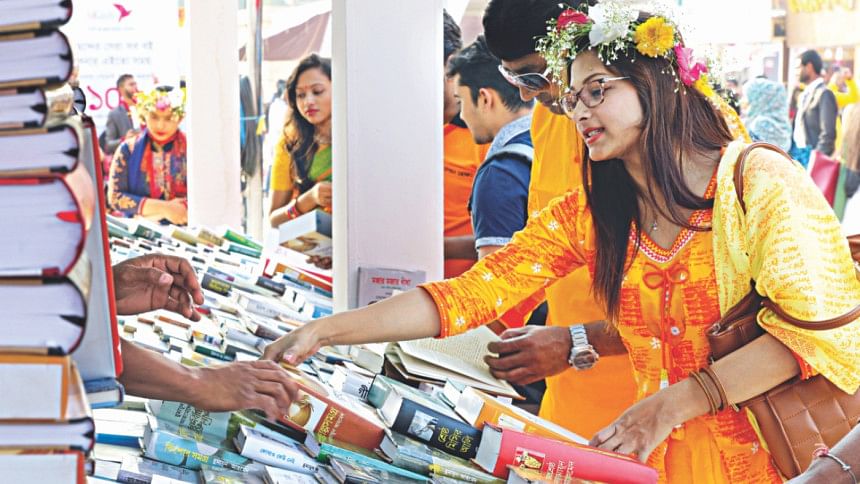 The lively campus of Dhaka University becomes livelier in February during the Amar Ekushey Granthamela. It lit up with colours yesterday when the first day of Bangla month Falgun met February.
People, especially women, adorned with flower tiaras and bright-coloured outfits, gathered at the Charukala Institute premises on the campus in the morning to usher in "Ritu Raj" spring -- the season of flowers.
In no time the fair of books nearby also wore a festive look as the cheerful visitors started making stops from stall to stall.
From Shahbagh to Doyel Chattar and from Bangla Academy to Suhrawardy Udyan, people of all ages were seen enjoying themselves and taking photographs with their loved ones.
By the end of the day most of them were seen going home with bundles of books and wearing smiles on their faces.
"We bought books by Humayun Ahmed. On this day, it's the best decision to buy books of such a great writer as we all know he was a nature lover," Said DU student Progga.
Her friend Nafis, vacationing at home from Russia, agreed. 
Many of the young couples, mostly in yellow attires, were buying books for each other and for their family or friends. Quite a good number of them chose to wear other bright colours too.
Udia Sen, a private university student, and her friend Chandan Halder, a medical student, were wearing blue. "We've chosen blue colour on this day. It isn't a must to wear only yellow during this month... anything colourful is welcome."
Chandan said, "We enjoyed the day so much and we also bought books by writer Muhammed Zafar Iqbal."
Businessman Muhammad Upol bought "Bangladesher Cinemay Smaroniyo Gaan" by Aslam Ahsan. Sharing his experience at the festivities of Falgun and the book fair, he said it is a good sign that the number of people visiting the book fair and celebrating Falgun has definitely increased in recent times.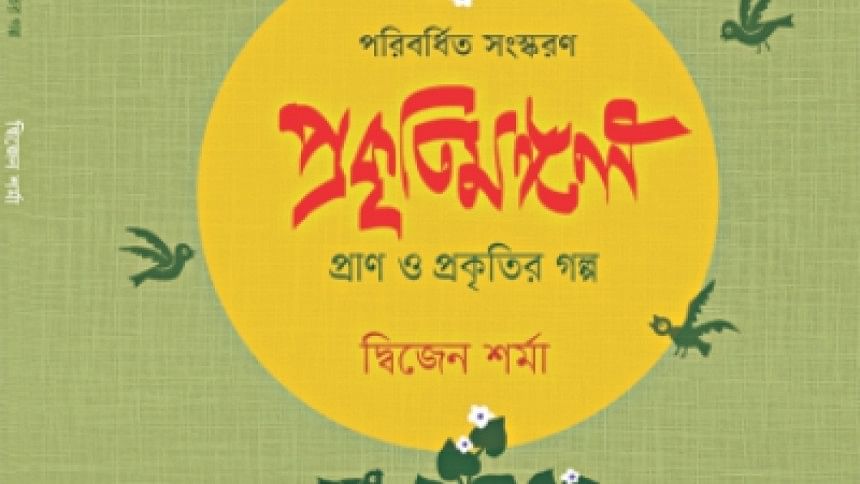 During the early years of the book fair and the celebration of Falgun, not too many people were seen taking photos of themselves. But now, with camera phones in everyone's hands, most people are seen taking snaps every now and then, he observed. 
Writer Dr Akanda Shamsun Nahar of Institute of Education and Research at DU was visiting a stall when this correspondent approached her and asked her about the festivities of Falgun.
"During our student days the Falgun used to be celebrated in a small sphere, but now everyone celebrates it, particularly the youths."
With the fair drawing a large crowd, publishers are also witnessing a larger volume in sale of books.
"Couples are buying varieties of books. They are buying books from different genres. The fair is now abuzz with visitors, said Haresuzzaman of Kathaprokash publication. "Bhalobasar Uponyas by Anisul Hoque from our publication is popular among the youths."
Novels by Rabindranath Tagore, Humayun Ahmed and Sumanto Aslam are also in good demand among the couples.
They were also buying "Pather Panchali" by Bibhutibhushan Bandyopadhyay and "Gitanjali" and "Shesher Kobita" by Rabindranath Tagore from Shahitya Bikash.
Romantic novels "Uttore Bhalobasa" by Anisul Hoque and "Jokhon Projapotir Mon" by Sumanto Aslam were selling well at Pearl Publications yesterday.
Couples were thronging Kakoli Prokashoni and Anya Prokash to buy Humayun Ahmed novels.
"Prakritimangal" by Naturalist Dwijen Sharma was among the 150 new books that arrived at the fair yesterday. The book is available at the stall of its publisher, Prakriti-Porichoy publication.