Recruitment in Malaysia: Probe role of 10 agencies
HC asks govt to form ministerial body amid allegations of monopoly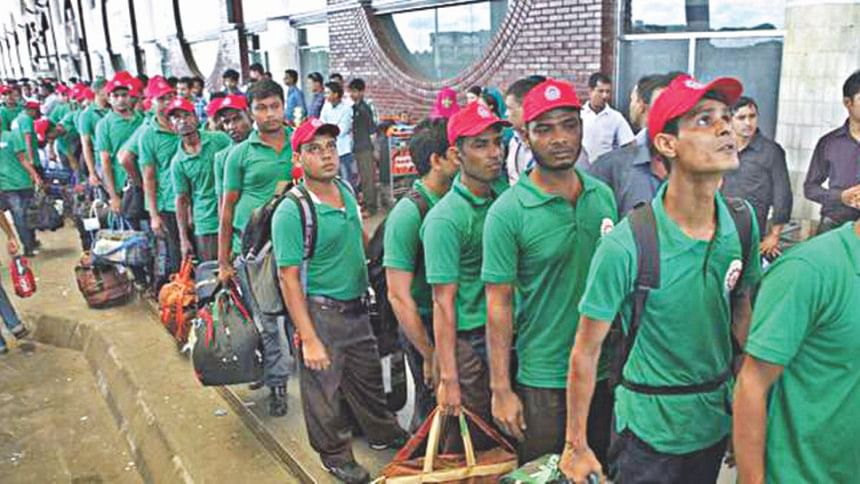 The High Court yesterday directed the government to form an inter-ministerial committee to investigate the monopoly of 10 recruiting agencies, which had been engaged in labour recruitment from Bangladesh to Malaysia, and submit the probe report in six months.
The HC bench of Justice Moyeenul Islam Chowdhury and Justice Md Ashraful Kamal also issued a rule, asking four ministries and other bodies concerned to explain why they failed to prevent formation and operation of the recruitment agencies' monopoly. 
The court also asked the authorities concerned why they should not be ordered to take action against the proprietors and the managing partners of the syndicate of 10 recruitment agencies and compensate the 10 petitioners.
The court came up with the order and rule following a writ petition filed by 10 recruitment agencies, which contested the arbitrary selection of the syndicate of 10 agencies that the petitioners claimed have deprived over a thousand competent government-approved agencies of their fundamental right to run a lawful trade guaranteed under article 40 of the constitution.  
Barrister Akhtar Imam and barrister Rashna Imam appeared for the petitioners -- Abdul Alim of SA Trading, Akbar Hossain Monju of Akbar Enterprise, Tariqul Islam of Gold Hunt International, Delwar Hossain Bhuiyan of Delwar Trade International, Tipu Sultan of Rajdhani Trade International, Arifur Rahman of Oparajita Overseas, Mohammed Mohiuddin of Purabi International, Akter Hossain of Al-Minar Overseas, Shahidul Islam of Ramna Air International and Ahsan Habib of Al-Burooj International.
They submitted the petition to the HC last week.
The syndicate of 10 agents accused of monopoly is: Noor Ali of Unique Eastern Pvt Ltd, Ruhul Amin of Catharsis International, Ghulam Mustafa of Prantik Travels & Tourism Ltd, Mohammed Bashir of Rabbi International, Zainal Abedin Zafar of Al Islam Overseas, Ruhul Amin of Amin Tours & Travels, ASM Khairul Amin of Career Overseas Consultants Ltd, Tuhin Siddiquue Ome of ISMT Human Resources Development Ltd, Arif Alam of Passage Associates and Shaikh Abdullah of Shanjari International.
Besides the 10 agents, other respondents to the rule are: secretaries to the ministries of expatriates' welfare, foreign affairs, home and commerce; director general, the Bureau of Manpower Employment and Training; director (trade organisations), the commerce ministry; chairman, Bangladesh Competition Commission; president, Bangladesh Association of International Recruiting Agencies (Baira); IGP and  Bangladesh Bank governor. 
The syndicate of 10 recruiting agencies was formed after Bangladesh and Malaysia had signed a recruitment deal -- G-to-G Plus -- in early 2016. It created a total monopoly to send workers to Malaysia.
As per the recruitment deal, the recruitment cost was set at Tk 37,500 a person, but was later revised to Tk 160,000 on June 14 last year. However, actual recruitment cost eventually went up to around Tk 400,000. 
Under the G-to-G Plus deal, over two lakh Bangladeshis have gone to Malaysia since early 2017. However, Malaysia has suspended the labour recruitment from Bangladesh since September 1 this year following allegations of charging high recruitment fees by the syndicate and exploitation of migrant workers.
The high migration costs decrease migration of workers, resulting in dropping of remittance to the country, the petition said.