Arson: Charges pressed against Khaleda, 26 others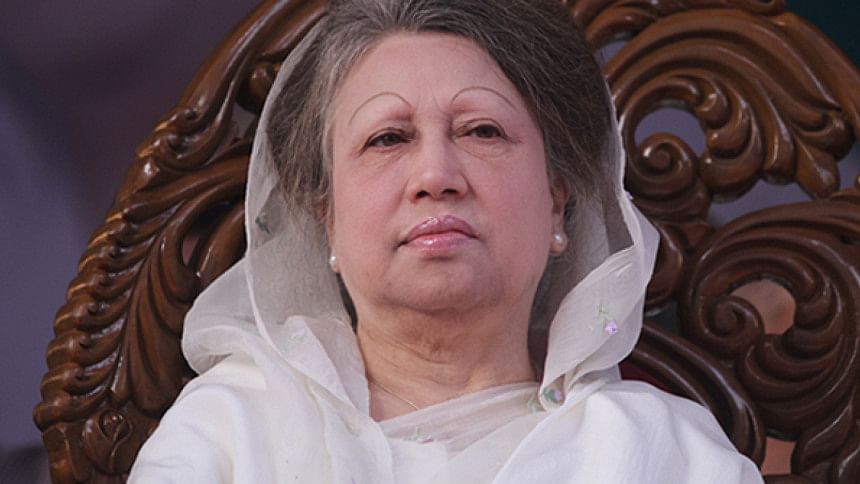 Darussalam police today pressed charges against BNP Chairperson Khaleda Zia and 26 other leaders and activists of the party in connection with two arson cases filed in February and March last year.
In the both charges, Khaleda Zia has been shown as mastermind even though her name was not mentioned in the first information reports (FIR) of the cases.
The cases were filed with Darussalam Police Station accusing a total of 27 leaders and activists of BNP-led 20-party alliance in February and March last year for arson attacks on passenger buses in Darussalam and Gabtoli during the party's nonstop anti-government movement.
Of the 27 accused, the charge sheets showed Khaleda and 19 others as fugitives as they did not secure bail in the cases. The investigation officers of the cases appealed to the court to issue arrest warrants for them. Rest of the seven including Amanullah Aman are on bails now.
According to the charge sheets, Khaleda masterminded the arson attacks on two buses on February 14 and March 3 last year.
In the first case, it was alleged that as per directives from the BNP chief, a group of BNP leaders and activists torched a minibus with petrol bomb inside the Khaleker Math at Gabtoli area on February 14.
In the second case, it was alleged that on the BNP chief's instructions, some BNP-led 20-party combine activists set fire to a minibus at the bypass road of Darussalam on March 3.     
Sub-inspector Faruqul Alam of Darussalam Police Station, also the investigation officer of the first case, submitted the charge sheet against Khaleda and 23 others to the Chief Metropolitan Magistrate's Court of Dhaka.
In the second charge sheet, Khaleda and 26 others have been charged with arson attack. The names of twenty-four accused, including Khaleda, are common in both the charge sheets. SI Shahidur Rahman of the police station pressed the charges with the same court. 
The accused include BNP leaders Amanullah Aman, Habib-Un-Nabi Khan Sohel, Mir Sarafat Ali Sapu, Azizul Bari Helal, Sultan Salauddin Tuku, Khaleda's Special Assistant Shamsur Rahman Shimul Biswas and her Press Secretary Maruf Kamal Khan.