Airport Road Accident: Protest rages, commuters bear brunt
Bus that killed 2 students had no route permit
Students outraged by the death of two of their peers on Airport Road on Sunday brought Dhaka's traffic system to its knees by blocking thoroughfares yesterday. The traffic chaos inflicted immense suffering on people.
For the second consecutive day, students of several educational institutions blocked Airport Road where a bus ploughed into a crowd killing two college students and injuring at least nine others.
The protesters demanded punishment of the drivers and apology from Shipping Minister Shahjahan Khan for his comments over the matter.
They kept the road blocked for around six hours. Many of them demanded resignation of the minister.
There were demonstrations at Science Laboratory, Mirpur-10 and Pragati Sarani. Dhaka's rail link with the rest of the country was snapped for an hour as demonstrators blocked rail lines near Cantonment Railway Station.
Meanwhile, Rab detained three drivers, including the two involved in the "race" moments before the crash, and two bus assistants after the father of one of the victims filed a case on Sunday night.
Bangladesh Road Transport Authority (BRTA) has suspended registration of both the vehicles.
Two students of Shaheed Ramiz Uddin Cantonment College, Dia Khanam Mim and Abdul Karim Rajib, were killed as the driver of one of the buses ploughed into a crowd near the ramp of the Banani flyover, adjacent to the Armed Forces Medical College in Kurmitola.
Meanwhile, Khondaker Enayet Ullah, secretary general of Bangladesh Road Transport Owners' Association, termed Sunday's crash a murder and demanded the highest punishment for those responsible.
He said their association would investigate the incident. "If any fault on the owner's part is found, the association will take action," Enayet said.
Any transport company owner appointing unskilled drivers without licences should be punished, he added.
ROAD BLOCKED, PEOPLE SUFFER
Several hundred students in uniforms of different schools and colleges gathered near Shewra Bazar around 10:00am and began to march towards the Radisson Blu hotel, chanting slogans and demanding justice for Sunday's victims.
Students of Shaheed Ramiz Uddin Cantonment College, Tejgaon Biggyan College, BAF Shaheen College, Bhashantek Government College, Kurmitola High School and College, among others, joined the procession.
They blocked both sides of the Airport Road around 10:30am. Some sat on the road while others stopped vehicles in the area.
Around 15 minutes later, they vandalised at least seven buses near Radisson, witnesses said.
The protesters demanded exemplary punishment for the drivers.
They also slammed Shipping Minister Shahjahan Khan for trying to make the deaths in road crashes seem insignificant.
"The parents who lost their son and daughter can understand their losses. But how can a minister make fun of the matter? With the minister's indulgence, the bus drivers have become reckless. We want the highest punishment for the bus drivers and demand resignation of the minister," said a student of Shaheed Ramiz Uddin Cantonment College.
One of the students was seen holding a placard that read "[Do] we need 33 bodies for justice?"
The minister on Sunday had mentioned that 33 people had died in a road crash in India.
The protesters urged the government to take responsibility of the road-crash victims and compensate the victim's families.
They also demanded speed-bumps in accident-prone areas and a footbridge in front of Shaheed Ramiz Uddin Cantonment College.
Around 2:00pm, the protesters again vandalised at least seven buses on a flyover in the area.
Around 3:15pm, the head teacher of Shaheed Ramiz Uddin Cantonment College went there and requested the students to leave. But the protesters refused to do so.
As police chased them away around 4:00pm, they vandalised around 50 vehicles in Shewra Bazar, Kuratuli and Khikhet areas.
Demonstrators at Science Lab, Mirpur-10 and Pragati Sarani areas vandalised several buses as well.
The nearly six-hour blockade threw Dhaka's traffic into chaos. Scores of people were seen walking as traffic crawled to a halt and stayed like that for hours.
A flight-operations official at Hazrat Shahjalal International Airport told The Daily Star that at least seven passengers of three flights scheduled to depart between 4:45pm and 7:30pm called and requested the authorities to delay their flights as they were stuck in traffic.
All except the three scheduled to fly at 7:20pm might have missed their flights as the planes left on time, the official said wishing anonymity. 
Rafiqul Islam, a 55-year-old labourer, was coming from Sirajganj to Mohakhali. As the bus didn't go beyond Tongi fearing vandalism, he had to walk for hours in the afternoon to Cantonment Railway Station.
Many including the hajj pilgrims also got stuck in traffic.
Soraiya Malik, 60, missed her flight to Kolkata after being stuck in traffic for three hours in Banani.
"I left my Niketon home at 1:00pm to catch the flight at 5:20pm. After many hurdles I reached at Banani. Not a single car was moving there. I thought of taking a short-cut through Baridhara, but the situation was the same there," she said.
"I kept waiting but the situation remained unchanged until 4:00pm. Then I decided to return home," she said.
Dhaka Cantonment Railway Station, was besieged by aggrieved students from 2:30pm to 3:30pm, Yasin Faroque, officer-in-charge of Dhaka Railway Police Station, told this newspaper.
Train services resumed after they left, he added.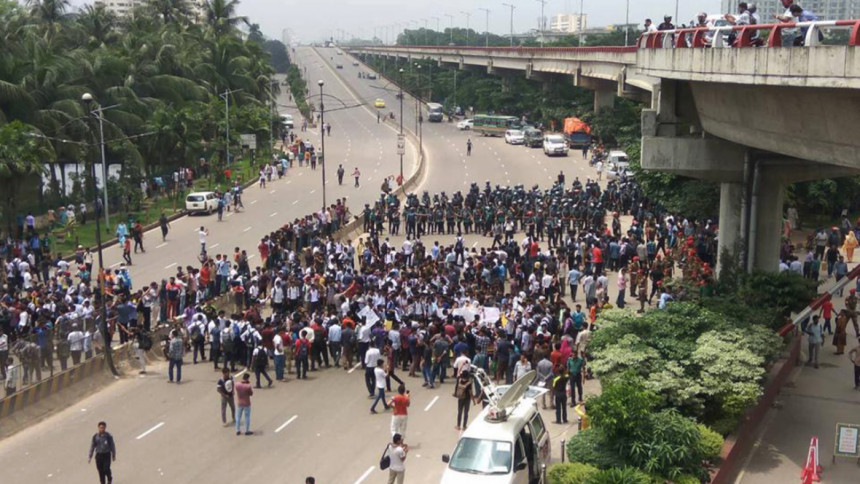 BRTA SUSPENDS REGISTRATION
The BRTA suspended registration of the two buses, Dhaka Metro Ba-11-7657 and Dhaka Metro Ba-11-9297, for "driving dangerously", Masud Alam, deputy director of the BRTA told The Daily Star, adding that the move was taken as per law.
He said the bus, Ba-11-9297, which ploughed into people had no route permit.
Besides, fitness, route permit and tax token of the other bus had expired, an official said.
"We have written to the bus company [Jabal-e-Noor Paribahan] to appear with all their documents at our office. Further action would be taken after going through the documents," Masud said.
Asked about the allegations, Zakir Hossain, chairman of Jabal-e-Noor Paribahan, said he did not know whether the bus had a route permit.
DRIVERS, ASSISTANTS DETAINED
Kabir Hossain Hawlader, inspector (investigation) of Cantonment Police Station, said a victim's father filed a case on Sunday night against an unnamed driver.
Mim's father Jahangir Fakir, however, said, "I was unaware of filing any case, but police took signature on a paper from me before taking my daughter's body from the police station.
"I am not satisfied with the case. I intended to file a murder case for the killing of my daughter."
Rab detained three drivers and two assistants of three buses in separate raids in the capital and Barguna.
They are: Masum Billah, 30, Enayet, 38, Jubair, 36, Sohag, 35, and Ripon, 32.