Accept HC order on city polls: Quader to protesters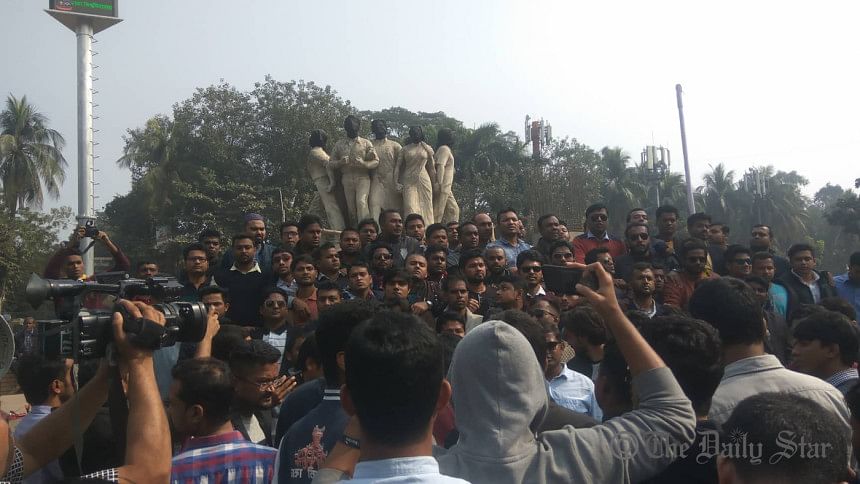 Road Transport and Bridges Minister Obaidul Quader today urged those who have been demanding deferral of the two city corporation elections to stop their protest and accept the High Court order delivered in this regard.
"I hope the protesters will take part in the vote festival by accepting the court's directive," Quader said at a press briefing regarding contemporary issues held at his office at the secretariat in Dhaka.
Also read: Demand for DCC Polls Deferral: EC in a tight spot
The minister said that the Election Commission could have considered the deferment of the date of Dhaka north and south city corporation elections. But since the court on January 14 cleared the way for the EC to hold the elections on January 30, the commission will have to obey it, he said.
Regarding the issue of violation of electoral code of conduct ahead of the city polls, Quader, also the general secretary of Awami League, said that the Election Commission should enforce the electoral code with strict hands.
"EC has all the power to take measures against the rule-breakers, the government has no hand in this," he said adding that "the administration and police are working according to the instructions of the EC ahead of city polls."
The Hindu community and Dhaka University students have been demanding deferral of the Dhaka city corporations election that coincides with Saraswati Puja, a major religious festival of the Hindus.
The EC officials yesterday said they don't intend to change the polls date for Dhaka North and South city corporations, as the High Court rejected a writ petition seeking deferral of the January 30 elections.