23 Bangladeshi changemakers selected for prestigious Acumen Fellowship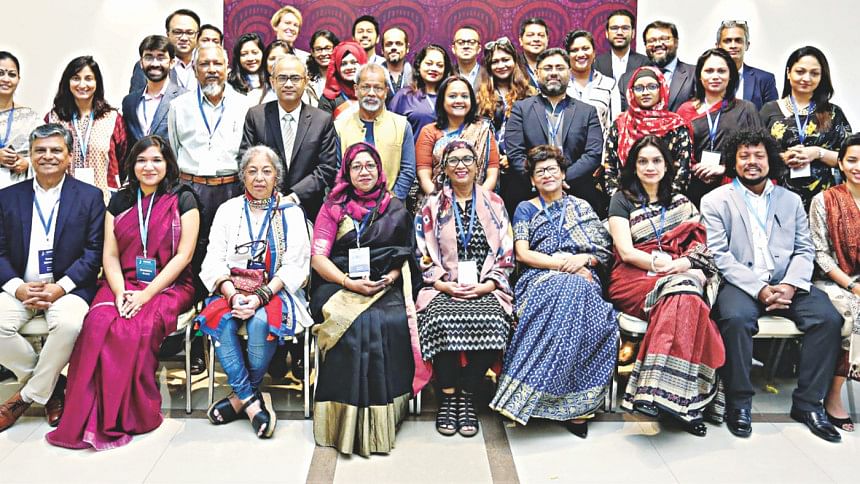 Following a rigorous application process, Acumen Academy has selected 23 Bangladeshi changemakers as fellows for the inaugural group of Acumen Fellowship Program, says a press release.
Offered concurrently in Bangladesh, East and West Africa, India, Colombia, Spain and Malaysia, the fellowship is a year-long intensive leadership development programme for emerging leaders who are building solutions to tackle problems around poverty and social justice.
Upon completion, the Bangladesh cohort will join Acumen's global community of more than 500 fellows. Fellows from past cohorts around the world have impacted more than 8 million lives globally.
Starting with this cohort in 2020, Acumen Academy Bangladesh will run the fellowship annually for change-makers across Bangladesh to build their capacity and strengthen their community to positively transform society.
From 230 applicants, candidates were assessed through a holistic three-stage application process that included written applications, video submissions and a final selection conference.
Forty-two shortlisted candidates were invited to the selection conference on November 29 last year, where 38 distinguished panelists from diverse sectors assessed the candidates through group activities and in-depth interviews. From there, 23 were finally selected.
The selected fellows represent diverse cultural, geographic and socioeconomic backgrounds and work in multiple sectors with the commitment to end poverty and injustice in their community through their work.
Some are social entrepreneurs who have launched or lead their own social change initiatives, some are intrapreneurs who are running a social change initiative within an existing organisation, and some are organisation builders who are an integral part of building a social change organisation. Each of their initiatives exist to eradicate poverty or fight injustice and are actively changing the systems they operate in.
During the fellowship, those selected will continue their jobs while participating in several multi-day immersive seminars and engaging in online content. These experiences are designed to create space for self-reflection, and a focus on real-world applicability.
The 2020 cohort of the Acumen Fellowship, the first in Bangladesh, includes:
Achia Khaleda -- managing director, Women in Digital -- works to increase the number of women and girls in technology through capacity-building initiatives.
Arifa As Alam -- project coordinator, Bangladesh Occupational Safety, Health and Environment Foundation (OSHE Foundation) -- works to ensure the rights and protection of vulnerable garment workers.
Azwa Nayeem -- founder and chairperson, Alokito Hridoy -- works to improve the quality of education in public primary schools through teacher training and fostering 21st-century skills.
Bishwamitra Chowdhury -- chief of operation, Funush Private Limited -- founded CareerKi, a career growth platform for youth to provide skill-based talent solutions for employers. 
Esrat Karim -- founder and director, AMAL Foundation -- supports marginalised communities of Bangladesh through capacity building and disaster relief.
Farhana Rashid -- CEO and co-founder, Bhumijo Limited -- works to provide and improve public sanitation services in Bangladesh.
GM Rakibul Islam -- assistant professor, department of educational administration, Noakhali Science and Technology University, Bangladesh --works to develop future leaders and managers for the education sector in Bangladesh.
JN Tawhida Shiropa -- founder and CEO, Moner Bondhu -- works to promote affordable and accessible mental health services.
Lipi Rahman -- executive director, Badabon Shangho -- works in Rampal of Khulna to increase access to and control over lands, property and water-bodies for marginalised women.
Md Rubaiyath Sarwar -- managing director, Innovision Consulting Private Limited -- supports private and public sector organisations to innovate on solutions to development barriers.
Md Sekender Ali Mina -- executive director, Safety and Rights Society -- works to improve workplace health and safety and working conditions in Bangladesh.
Mohammad Rejaul Karim Siddiquee -- chairperson, Disability Inclusive Justice and Legal Aid Association (DIJLA) -- works to foster transparent and responsible governing systems.
Md Asad-ur-Rahman Nile -- country cirector- Bangladesh, Simprints Technology Ltd -- works to provide biometric solutions for frontline workers to ensure verified impact.
Muktasree Chakma -- founder and executive director, Supporting People and Rebuilding Communities- SPaRC -- works to improve the lives of indigenous women and girls in the Chittagong Hill Tracts
Nasreen Sultana -- founder and editor, Project Tiktaalik -- uses cartoons as a tool to make learning more engaging to students.
Nawshin Khair -- managing director, Aranya Crafts Ltd -- promotes Bangladeshi artisan products worldwide and empowers women by giving them access to livelihoods.
Nirjhor Rahman -- CEO, Bangladesh Angels Network -- runs the country' first angel investment network to connect innovative startups with smart capital via individual and institutional investors.
Rakib Avi -- programme coordinator, Executive Director's Office and Social Innovation Lab, Brac -- works to build knowledge, skills and prototypes for sustainable social entrepreneurship.
Rubayat Khan -- CEO, Jeeon -- works to improve the quality of care in pharmacies to reduce health inequalities faced by rural populations.
Sohara Mehroze Shachi -- research officer, UNDP -- works to mobilise climate finance and address climate change impacts on vulnerable groups.
Tanvir Alim, operations lead, Oboyob Diversity Circle -- works to support marginalised communities in Bangladesh.
Vashkar Bhattacharjee -- programme manager, Young Power in Social Action (YPSA) and National Consultant (Accessibility) a2i -- works to support young people with disabilities foster inclusion.
Zareen Mahmud Hosein -- founder and executive director, HerStory Foundation -- uses storytelling, training and awareness raising to address issues of gender equity.
Acumen works to change the way the world tackles poverty. To do this, they seek out and invest in entrepreneurs and leaders with character, competence and moral leadership.
Founded in 2001, Acumen has been named one of Fast Company's Top 10 Most Innovative Not-for-Profit Companies in 2015 and Acumen Founder and CEO Jacqueline Novogratz was named one of Forbes 100 Greatest Living Business Minds.