OMS food in markets
Rab seizes 215 tonnes at city market, on trucks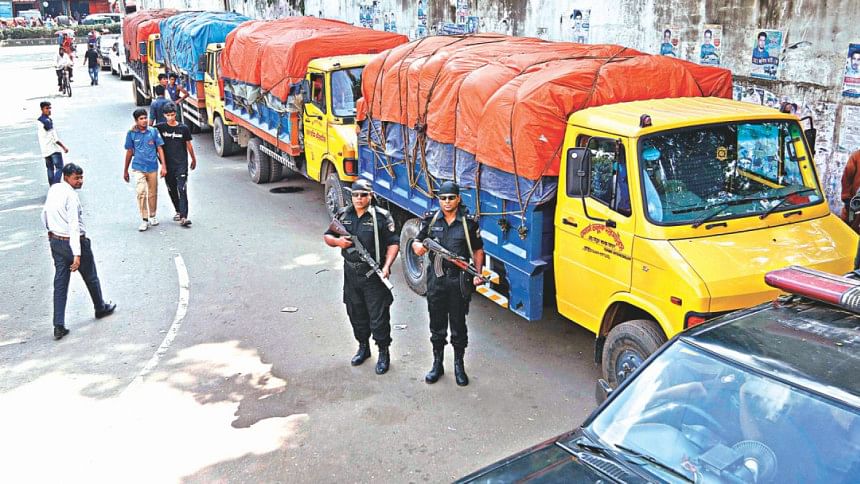 The Rab seized 215 tonnes of subsidised rice, flour and wheat meant for lower income people from a government warehouse and a kitchen market in the capital over the last two days. 
On Saturday night, a Rab-3 team led by Executive Magistrate Sarwoer Alam seized eight trucks carrying 115 Open Market Sale (OMS) rice and flour when they were just heading for Gazipur, Chuadanga and Sreemangal from the Tejgaon Central Storage Depot (CSD).
Yesterday, the same team seized 100 more tonnes of rice and flour from eleven private warehouses in Mohammadpur Krishi Market. The items ended up there from the Tejgaon CSD.
Sarwoer said the rice and flour were supposed to be sold in open market at 141 places through 141 dealers in Dhaka city for lower income people. But unscrupulous traders sold them in black market for high profit.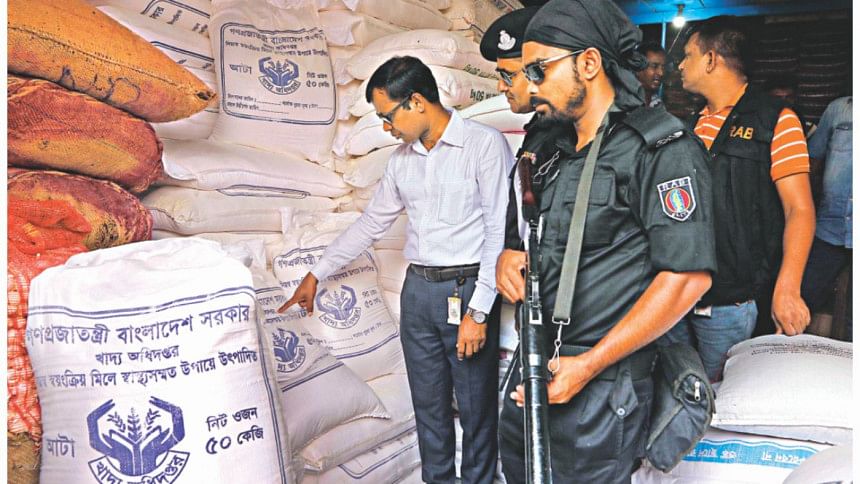 No one could be arrested from the market as the traders fled during the drive, he said.
Asked about the seizure at the CSD, the magistrate said they got names of some officials there and that they would hand the list over to the Anti-Corruption Commission for investigation.
The raid was conducted on information that a syndicate of about 15, including CSD officials, dealers and unscrupulous traders, sells OMS rice and flour illegally in markets across the country, said Sarwoer.
They sell at least 100 tonnes of OMS rice and flour every day illegally from the CSD alone.
In the capital, about 30 of the 141 OMS dealers operate their shops properly, he added.
Each dealer gets a tonne of rice and two tonnes of flour a day, six days a week.
The government procures the rice and flour at farm level at Tk 39 and Tk 32 respectively and sell them in open market at Tk 30 and Tk 16.
Contacted, CSD Manager Humayun Kabir denied that his officials were involved in the theft.
He claimed that they delivered the rice and flour in line with Demand Orders.