Back to Green: 4 lakh trees planted on 400 acres of recovered forestland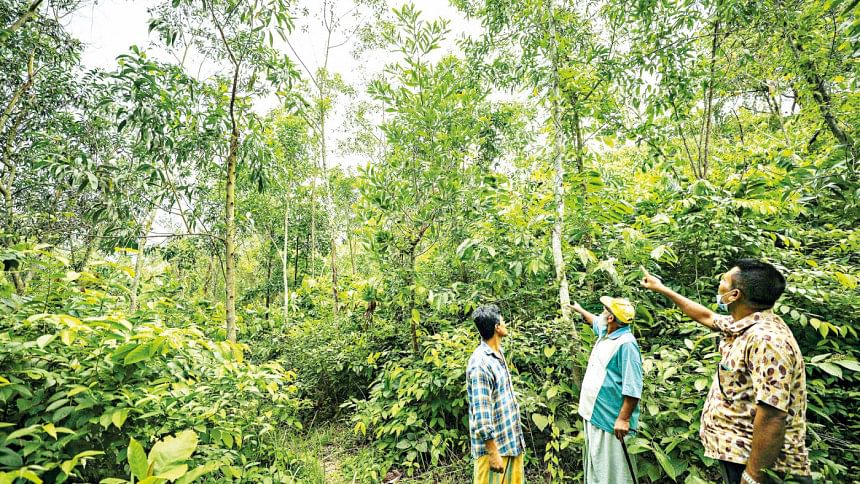 The forest department has reforested a total of 400 acres of protected forestland -- which was grabbed by locals in Kodolpur area of Chattogram's Raozan upazila -- bringing a positive change for the region's biodiversity.
Under the "social forestry" project, 25 native species of trees -- including gamhar, arjun, olive, neem and haritaki -- are now spreading their branches.
Besides, the department listed 400 destitute families in the area as beneficiaries under the project. These families will get 45 percent dividends from the sale of trees, after the project ends.
Around four lakh trees have been planted under the project, which started in 2018 and will end in 2032.
During a visit to Kodolpur on Sunday, this correspondent saw the saplings being nurtured by locals. Many of the trees are now 10 to 12 feet tall, and beneficiaries were seen guarding the forest.
Md Didar, a beneficiary of the forest, told the newspaper, "We treat the forest's trees as our children. We care about them; we protect them, so that on one can cause harm."
"At one point, local encroachers grabbed the land and installed different kinds of illegal establishments. But now, the situation has totally changed. It's now turning into a green haven, full of different species of trees," said Abu Ahmed, another beneficiary.
"We will get money as beneficiaries after the trees are cut down, which will bring us prosperity," he added.
"The project not only maintains ecological balance in our area but also brings happiness to poor families," said Nizam Uddin Ahmed Chowdhury, chairperson of Kodolpur Union Parishad.
Khasrul Amin, forest ranger of Ichamati (Raozan) Forest Range, told The Daily Star that the land had been grabbed by locals, but the forest department recovered the land from them and planted trees. "Four hundred indigent local families were listed as beneficiaries under the project. They safeguard the forest."
Mozammel Haque Shah Chowdhury, divisional forest officer of Chattogram North Forest Department, said the department's hard work finally paid off, because the saplings have turned the place into a dense, green forest, inhabited by snakes, wild boars and birds.
Environmentalists have praised the work.
Kamal Ahmed, professor of Forestry and Environmental Science Institute at Chittagong University, told this newspaper, "Deforestation is one of the biggest problems in Bangladesh. Global warming has accelerated in recent years due to deforestation."
"Stopping deforestation and focusing on reforesting is the need of the hour, but it is easier said than done. The forest department of Chattogram has shown that it is not impossible," he said.