Tale of port city's own racer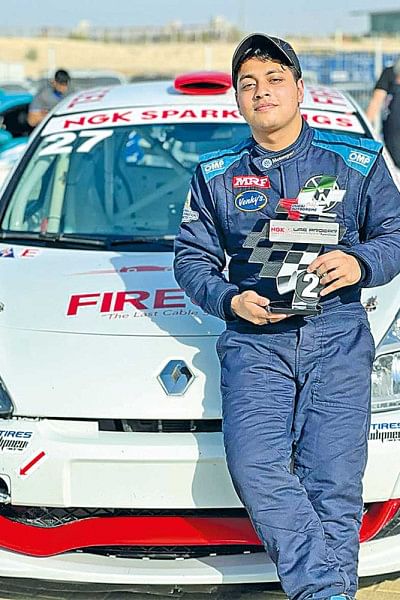 At only 18, Aiman Sadat journeyed all the way from Chattogram to Dubai, to participate in the NGK UAE Pro-Cup Championship held in Dubai Autodrome, a fully integrated and FIA sanctioned sports venue in United Arab Emirates.
In what was the first time participating in this championship, Aiman managed to place second in two categories of the competition.
In the Dubai Race, he drove a Gen-3 car when all other participants were driving much more advanced Gen-5 cars, which makes his success all the more deserving.
But this was not his first time he won an international trophy. His first taste of success came when he competed in the Volkswagen Ameo Cup, held in Chennai, and became the youngest champion in its history.
Outpacing many skilled drivers, he won the trophy on his first go, following the footsteps of his elder brother Affan, who stood runner-up at the Volkswagen Junior Ameo cup before.
"My elder brother and father are my main inspirations. We used to watch F1 together when I was younger. I always cheered for whichever car would come in first," Aiman recounted in a recent interview with The Daily Star.
But his journey was quite challenging. Alongside studies, he had to practice constantly as well as look for sponsors who would enable him to attend the competitions.
Another trouble was finding practicing spaces in the port city. Initially, he trained using simulators because not just Chattogram, but the entire country does not have any ground for his purpose. His on-field practices had to be conducted abroad, which was a costly process.
But even this was made difficult as Covid-19 set in worldwide. Unable to attend or apply for any race, Aiman was kept in touch by his brother Affan, who gave him theoretical training about cars, race tracks, safety measures, racing protocols and strength training.
No racer is certain where they will be in five or 10 years, but Aiman told The Daily Star that he wants to keep getting better. He wants to keep his passion high and continue serving his country by bringing in international recognition through his success in the sport.