Home away from home
CU campus abuzz with iftar arrangements after two years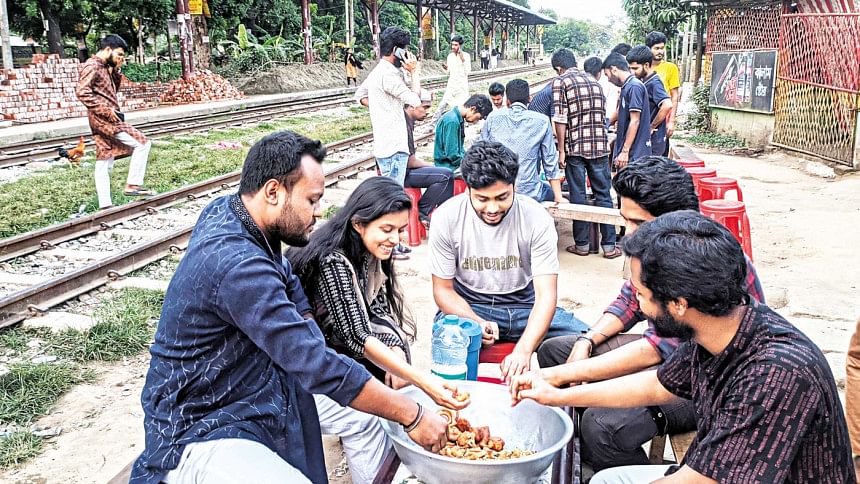 With the number of Covid cases on the wane and subsequently, restrictions eased, the campuses across the country are coming back to its old self. Students are continuing classes, exams and other academic activities to compensate for the loss in academic time due to the pandemic.
For many residential university students, Ramadan this year entails staying away from home. Shared and joint iftar sessions at campuses are the only means for them to keep the warmth and love alive, now that they are missing away on the opportunity to spend the month at home with their families.
Students of Chittagong University (CU) are no different.
"Being away from family is hard, particularly during this time. But we are getting to stay with our friends this year, and it's a pleasure nonetheless," said Arman Khan, a management major at CU, during an iftar party arranged by his department.
Several different associations and clubs like CUSS, CUAC, CUDS, CUAA, including the district associations, are organising iftar parties every day. In addition to that, students of residential halls also have their sehri together in their dining space at dawn.
"At first when we heard the classes would continue in Ramadan, we were disappointed. But after spending a few days on campus with friends, it is getting better," said Adnan Hossain, a chemistry major.
"There are iftar parties at different places every other day and we always have our sehri together. This feels like a reunion of sorts, to say the least as if we have been spending the time at home with our families all along," he added.
The iftar market near the campus area has also seen a boom this year. Rofiq Miah, a seasonal iftar vendor in gate-2 area of the campus, said, "During Ramadan, we don't sell our regular items. The entire profit that we make comes from iftar items only."