CU launches seven biotech research labs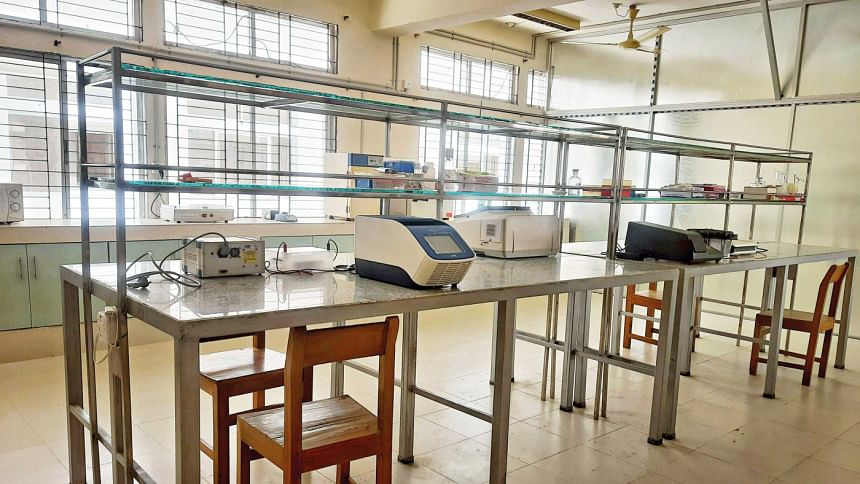 Chittagong University (CU) inaugurated seven international-standard biotechnology research labs at the Department of Genetic Engineering and Biotechnology on May 23.
CU is the first and only university in Bangladesh to launch such labs, which have specialised equipment, on university premises.
Six labs will be facilitated by the university's Biotechnology Research and Innovation Center, and one will be supported by Child Health Research Foundation (CHRF) in Dhaka, and Find Diagnostics of Switzerland.
That one lab, named "Next Generation Sequencing, Research and Innovation Lab Chittagong", is the first international, joint laboratory for genome research in the country.
The labs were inaugurated by Dr Shireen Akhter, vice chancellor of Chittagong University. Researcher Dr Senjuti Saha, director of CHRF and advisor to the World Health Organization, was present as guest of honour.
Prof Benu Kumar Dey, pro-vice chancellor of CU; Prof Touhid Hossain, dean of the biology faculty; Dr Golam Mostafa, director of Laboratory of Science and Industry, and Dr Nasiruddin, director of Bangladesh Institute of Tropical and Infectious Diseases, were also present at the inauguration event.
Senjuti said, "The reason for setting up labs at Chittagong University is that students have a lot of desire to do research here... Now, the researchers don't have to go elsewhere with their samples."
Associate professor of the department Adnan Mannan said, "In these labs, we can research cancer as well as infectious and genetic diseases... This is a huge milestone."