The rise of AI and leveraging it for employability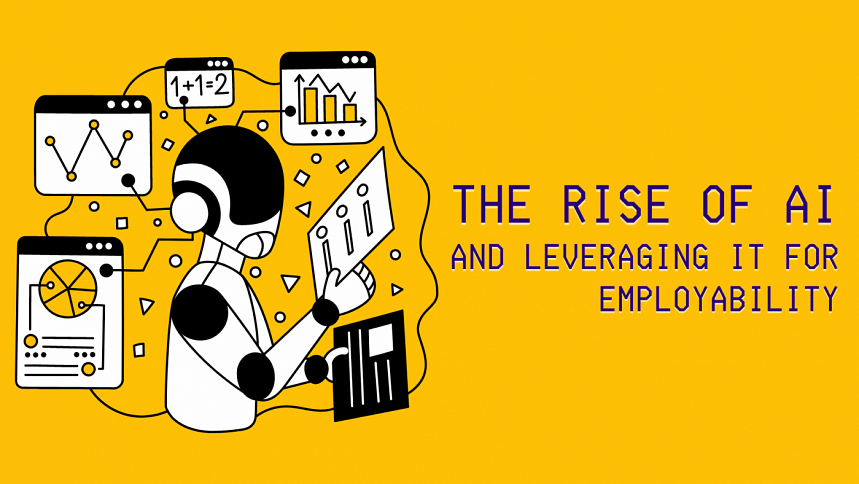 When the printing press was invented in the 15th century, it revolutionised the dissemination of knowledge, causing an unprecedented spread of ideas, literacy, and culture. When the internet was invented in the 20th century, it ushered in a new era of global connectivity, transforming industries, empowering individuals, and giving rise to a digital revolution that continues to shape nearly every aspect of modern life.
Now, artificial intelligence (AI) has emerged as the harbinger of a new era.
AI has been around for a long time now, but the world is recently taking notice of its impact because of the influx of AI apps being constantly released. With all the new buzzwords that are being thrown around since the release of ChatGPT in November 2022, it can be overwhelming to navigate the hype and excitement.
Most of the AI tools that we are using today are grouped under "Generative AI". As the name suggests, this is a model that can take what it has learnt and generate new content like text, images, audio, or video.
Another term thrown around a lot is Large Language Model (LLM), a type of Generative AI that can combine and predict text to produce natural-sounding language output. Examples of LLMs include OpenAI's GPT-4 and Google's PaLM, which power ChatGPT and Bard respectively.
As this remarkable technology continues to advance at an unprecedented pace, we find ourselves standing at the precipice of a future that was once confined to the realms of science fiction. Just like the dawn of the internet, there is widespread belief and fear that AI is going to replace people's jobs. The internet had instead generated employment and experts say AI is going to be no different. While it does automate a lot of menial tasks, like writing emails and drafting proposals, AI is here to assist rather than replace.
Dr Lamia Iftekhar, Associate Professor at the Department of Electrical and Computer Engineering, North South University (NSU) shares, "It's easy to have your job done by AI but how do you know whether it is doing it correctly? Since AI has the potential to replace a lot of mundane and manual tasks, future jobs will not particularly require you to have these skills but you must know how to make AI work for you. For that, you have to be excellent in prompt engineering."
Prompt engineering is the process of designing and developing prompts that are used to interact with LLMs. The goal is to create prompts that are clear, concise, and effective in communicating the desired task to the LLM so that you can get the required output. With AI increasingly being integrated into the applications we commonly use, such as Microsoft Office, it is only natural that we learn to harness this new technology.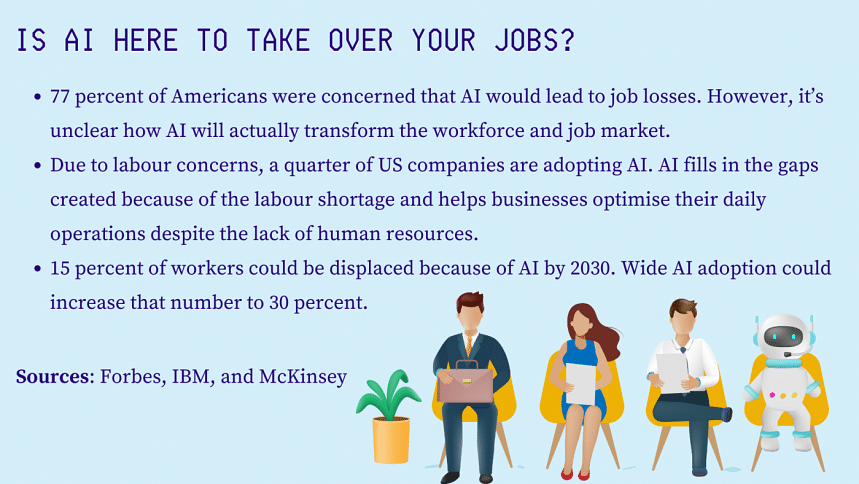 Dr Tanzilur Rahman, another Associate Professor at NSU shares similar sentiments.
"To keep their jobs, people need to be skilled in the application as much as possible. And that's the part that is changing more frequently with the advent of technology," he says. "Learn the latest technology and keep pace with the change. The moment the industry realises that humans can't keep up, they will consider handing over the work to AI."
In the tech industry, developers are already using AI in their regular workflow.
"LLMs can be a great tool to assist developers. One of the best uses for me, personally, is when I am learning about a new framework and I have a specific question in mind. Instead of skimming through pages of documentation or being berated on Stack Overflow, I can ask the more 'less thoughtfully-crafted' question to Bard or ChatGPT and it will instantly give me the answer saving me hours. It's also a great tool to generate boilerplate code and writing tests. While I don't think it will replace developers in the near future, I do think it will bring a much-needed positive change to the industry," shares Salman Sahel, a software engineer at Samsung R&D, when asked about how his role has been impacted by the use of AI.
When it comes to tech workers, the advent of AI is more than just about productivity. With the rise of AI-powered apps being developed to suit every need, software engineers will be expected to know how to integrate AI into the backend of applications.
Dr Tanzilur says, "A professor suggested that keeping the Fourth Industrial Revolution in mind, we should focus more on teaching industry-oriented and applied-sides of the topics. Learning to use AI to design applications will help speed up development, so fewer people will be learning theories."
Furthermore, the fields of AI and machine learning will rapidly expand, opening doors for research, development, and innovation. More technical experts will be needed to improve current AI models and build new ones, as Bill Gates writes in his blog, GatesNotes, "Since a huge portion of it is now turning its attention to AI, the innovations are going to come much faster than what we experienced after the microprocessor breakthrough. Soon the pre-AI period will seem as distant as the days when using a computer meant typing at a C:> prompt rather than tapping on a screen."
This is an incredible opportunity for the next generation of computer scientists to delve into a field that is going to impact the whole world.
Salman also elaborated on what it would take to build a career on the technical side of the domain.
"In my opinion, the best skill to have as a fresh CS grad is versatility – to be able to work with anything and absorb skills without much effort," he says, "For that, we require a more intimate understanding of the fundamentals of Computer Science. This is where proofs, discrete mathematics, and 'boring' class lectures come into play. They help your intuition grow. If you want a career in machine learning and bunked all Linear Algebra classes, find Mathematics boring, and don't even know why you're studying CS in the first place, this advice is for you. There are no shortcuts, don't take the easy way."
AI is also expected to revolutionise how we learn. With classroom-specific tools being developed to aid teachers and students, like Khan Academy's AI-powered guide Khanmigo, it is only a matter of time before our knowledge and expertise become dependent on how much we leverage AI to learn.
Dr Lamia also says, "AI can be a great learning tool, especially for countries like ours. A student who is struggling to understand their teacher in class can ask the AI to teach them the topic in a way that is easy for them to comprehend. However, if generative AI like ChatGPT and Bard is hidden behind a paywall, the inequity between the rich and poor will increase as those who can afford it will have access to better resources than those who can't."
There are other potential challenges to the rise of AI. AI can easily create misinformation, which can erode trust in institutions and lead to people making decisions based on false information. This can have a negative impact on society, as it can lead to increased polarization and instability. Another challenge of AI is the potential for bias. AI algorithms are trained on data, and if this data is biased, the algorithms will be biased as well. This could lead to AI-powered tools making unfair or discriminatory decisions.
This is why, the more people that join this growing field, the more diversity there will be in the research and development process, and the less biased machine learning systems will be.
Despite the challenges, the field of AI is constantly evolving, so it's important to stay up-to-date on the latest trends to understand how AI is being used in different sectors and how it could impact your own career. Developing AI-related skills will make you more marketable in the job market and give you a competitive edge. You need to be open to change and willing to adapt to new technologies, not just in work but in your education too.
References:
1. GatesNotes (March 21, 2023). The Age of AI has begun.
2. The Keyword (April 11, 2023). Ask a Techspert: What is generative AI? A Google AI expert breaks it down.
3. CSET, Georgetown University (May 12, 2023). What Are Generative AI, Large Language Models, and Foundation Models?