Is Microsoft back in the game again?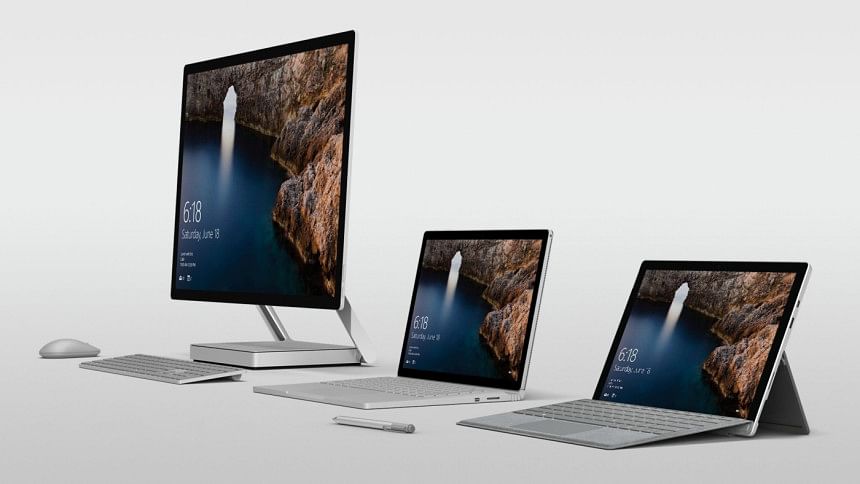 We ask ourselves this question once every year, laugh and then go back to whatever else is worth the hype. The only exception is probably the Surface by Microsoft; which is a godsend.
The Surface Studio launched on 26 October and our jaws dropped. The sleek design, the alluring curves, a 28-inch touch display – are certainly enticing.  And the Surface Dial, which is albeit slightly gimmicky, might just have some application in the creative industry. It's a breath of fresh air in a market that's trying to sell matte black as an innovation.
The last time Microsoft could induce goose-bumps was…when? I think I wasn't even born. Our feelings of incessant need (read: want) followed up by complains from our wallets were always Apple's forte but the simplistic Surface Studio launch video had us scrambling for the pricing. It starts at $2999 (Core i5 Skylake, 8GB RAM, 2GB GeForce GTX 965M), with the mid-range offering at $3499 (Core i7 Skylake, 16GB RAM, 2GB GeForce GTX 965M) and the high-end Surface Studio being $4199 (Core i7 Skylake, 32GB RAM, 4GB GeForce GTX 980M); all of these include a keyboard, a mouse and a Surface Dial and a Surface Pen.
Ouch.
The entry-level iMac is priced at $1800 and the high-end at $3400. Both are significantly cheaper than what Microsoft's putting on the table. The exclusion of newer generation of Intel Kaby Lake processors and nVIDIA's 1000-series cards also raises some questions. The GTX 900-series is significantly weaker than the new genera
tions. Not only that, they failed to mention exactly what a Rapid Hybrid Drive is. Is it an SSD? Is it an SSHD? Who knows? The ambitious pricing of a generation late device, raises quite a few eyebrows. Even though the stocks have seen an uptick, it remains to be seen exactly how important these specs are and if the price is worth a graphics tablet on steroids with a dial. Microsoft seems confident but that confidence can be questioned by the rumours of a new iMac launch around the end of this year. One thing's for certain, Microsoft won't hold back when it comes to promoting their holistic ecosystem against Apple. Hold onto your money, it's going to be a one heck of a ride.