Igniting digital transformation
Digital transformation is about reimagining how you bring together people, data and processes to create value for your customers and maintain a competitive advantage in a digital-first world. We spoke about how digital transformation is going to impact businesses and what Microsoft is doing in Bangladesh with Ralph Haupter President, Microsoft Asia and Corporate Vice-President, Microsoft. Here's the gist: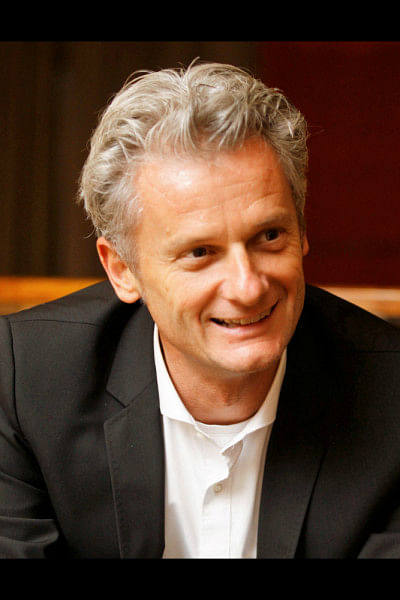 So what brought you to Dhaka?
Generally speaking, I wanted to see and understand the business opportunities we had in Dhaka. Microsoft Bangladesh is in a unique situation here. We are here since 2004 and probably only one out of the top tech companies that have operations here. We are serving here almost three hundred partners and businesses. This is more than one-third of the country's ICT ecosystem. So during my visit, I talked with several cabinet ministers, commercial customers and partners about the variety of products that we are offering for this market. We already have a strong leadership here so I wanted to get an idea about the opportunities and innovations that we can explore here in Dhaka.
In the last thirteen years, what has been the journey like for Microsoft in Bangladesh?
We have been steadily growing in this market in these years. We started by creating a footprint and now we are enriching our portfolio. We always believe that when we go to a country it is never about us making more and more customers, rather it's about building an ecosystem that can serve our goal. We have partners who are building devices; we have partners who are developing solutions for countries and partners who are developing industry solutions. So basically now we are being an end-to-end solutions provider.
Despite having the highest number of data centres, why is Azure's market share not as big as the competitors (i.e. Amazon Web Services)? What is Microsoft's strategy to grow its market share in this field?
We currently are targeting four areas of the solution: business application (i.e. ERP, CRM), Modern Workplace, Infrastructure Applications and Data & Artificial Intelligence. We have high hopes about our Azure portfolio because it is unique in many ways. Yes, we have the highest number of data centres. We not only focus on the computing performance rather we focus on the array of services we can add to our portfolio. Our product comes with Artificial Intelligence-based solutions which are unique in the market. We are leading in terms of data analytics in this arena. We also differentiate ourselves by our presence. We are the only company that's operating in China right now. We also focus highly on partner ecosystem development. We are the only company to offer hybrid cloud infrastructure in the market. Companies going to the global cloud now can have Azure capabilities in their own data centres.
Digital transformation is something that Microsoft is focusing on. How do you think these transformations are going to happen?
In a recently conducted study in Asia, we interviewed 1300 key decision-makers. We asked them about digital
transformation and how relevant is it for their company. 87% of them said software and the usage of data are a key asset for building future business models. The challenging part is having a proper plan to address that. Nearly 20% of these companies already have a plan. Those who don't will soon be developing one. This is certainly a unique aspect that we are seeing in terms of digital transformation.
In case of cloud, security is one of the most key issues that most customers are worried about. How is Microsoft tackling these customer concerns?
First of all, one of the key principles to make any infrastructure secure is having the latest technology. Secondly, you need to have the highest capability of doing data analytics to find out potentials risks. Both of the concerns can fully be addressed through cloud environment only. So whatever you try to do as a commercial company, the best thing is to go cloud as soon as possible. So we believe the only way to actually address the security issues is by getting out of the private servers and moving to cloud. We saw this in China where many huge corporations understood the threats of running private server and went to the latest cloud technology to avert any security-related incidents.
How well is Microsoft faring in the device market?
We have been focusing on the Surface device portfolio to really develop a leading-edge technology. Our Surface devices now have one of the best devices experience, one of the best touch experience even one of the best laptop experience. In case of Hololense, we have opened a category that wasn't there at all. We are seeing it being picked up in gaming; we are seeing it being used in very targeted industries i.e. automotive, medical, high tech precision industries. And all of these devices are connected to Windows 10. So that's how our device market is doing.
You have been in this industry for nearly 20 years. What do you think the future is going to be about?
I personally feel very excited to be in an industry that's evolving at such a pace. We are part of an industry that focuses on innovation; now more than ever. The software will be part of everything. From commercial businesses to home environment software will be at the heart of everything. We are at a point where Artificial Intelligence will be leveraging all these integrations and eventually these will have a profound impact on the society. For a country like Bangladesh where you have the 8th largest population; technologies like these are going to have a huge impact on people in the future.