How mobile apps have changed our lives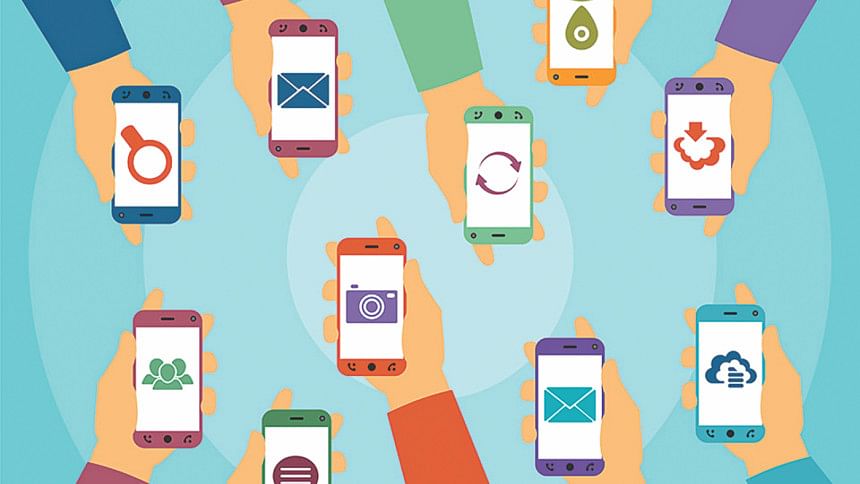 In this day and age, one thing that we all consider an indispensable part of our lives is smartphones. This device allows us to stay in touch by calling and texting our loved ones, brainstorm by browsing the web, get work done by managing teams, and stay fit by tracking how we move. Undoubtedly, almost anything and everything can be done using smartphones. But what make these devices so useful are apps. Apps are, in a way, the heart and soul of every smartphone. People around the world wake up and open one of the numerous apps installed on their phones.
It is clear that apps have changed the way we live our lives. However, it is entirely possible to overlook the profound impact apps have on our lives. Let's have a look at how these apps impact our lives.
According to the 106-page report published by Hootsuite and We Are Social, more than one-third of the world's population has access to mobile apps.  That's 2.549 billion people. And this figure has gone up by 30 percent since last year, which is an additional 581 million. The most amazing part is: out of the 2.549 billion app users of the world, 1.441 billion reside in the Asia Pacific region.
Coming down to the specifics. How much time do people spend on different types of apps? According to a study conducted by Flurry Analytics, the amount is bewildering. Users spend a whooping three hours and 40 minutes on apps – the majority of which is spent on social media (nearly 27 percent). You might think that since so many people use apps, there would be a wide variety in usage. Sadly, you couldn't be more wrong. Out of nearly four million apps on the Apple and Google Stores combined, only 36 apps are being installed by a regular user; out of those 36, only 26 are being used regularly. By regularly we mean apps that are being used at least once a month. But if we look into apps that are being used daily, the number won't cross 10-12. Of the 36 installed apps, 25 percent will be used once per six months. All these figures suggest one very simple thing: we are way too much reliant on a handful of apps for our day-to-day activities.
So how do apps play their part in daily life? According to a study conducted by University of Washington, the average tech savvy user has up to 349 encounters with apps in 18 hours, assuming six hours of sleep. And this starts every morning since the first thing that a user does after waking up is pick up their phone. 93.8 percent of the case subjects responded that they open their phone's email and calendar app in the very first hour of their day. Then they put on music through a streaming app, call for cabs or rides using apps, and check their social media updates during the entire commute. The app encounter rate slows down when the user enters the office, but slowly picks up as the day goes by. By evening, when everyone is leaving the office, the app encounter rate skyrockets and stays that way till around three in the night.
These app encounters have essentially changed the way we lead our lives. People who never used to go on walks are now installing health tracker apps and keeping tabs on their activity. People who never liked playing games outdoor now walk miles to find a rare Pokémon. And people who were too lazy to cook their own food now resort to apps to have healthy, home-cooked food delivered to their doorsteps.
In Bangladesh, we have seen people mostly using apps for social media and email or even chatting. But slowly and steady that trend is changing. We now have an increased volume of YouTube views in the last couple of years. Moreover utility and productivity based app are also more frequently being used. Starting from ride hailing services like Uber or Pathao to food delivery services like Hungry Naki or Food Panda to balance recharging apps like Udoy or Easy.com.bd – all are being plugged in to our daily app ecosystem. Banking and billing services are quite popular too. Most of the prominent banks now have app of their own using which you can do the very basic stuff. Some has advance features including inter-bank transfer, balance sheet management, auto-debit instruction option etc. With apps like Tonic, Doctorola or even Rx71 you can setup appointment with doctors. You can also see what medicines to subscribe, pay for your medical insurance and get health tips on a regular basis.
If you want to keep yourself entertained, they you need not to look much further. Even without YouTube there is thousands of local app that are dedicated for this purpose only. Most of the operators now have music & video streaming apps with a rich content library. Though local mobile gaming industry is at a very nascent stage, still there are some promising local games that have garnered quite a fan base.
To be honest, if you look back even just couple years back, you won't find this sort of app dependence. Truly, apps now has changed the way how we lead our lives.