Hands on Review: Samsung Galaxy A7 2017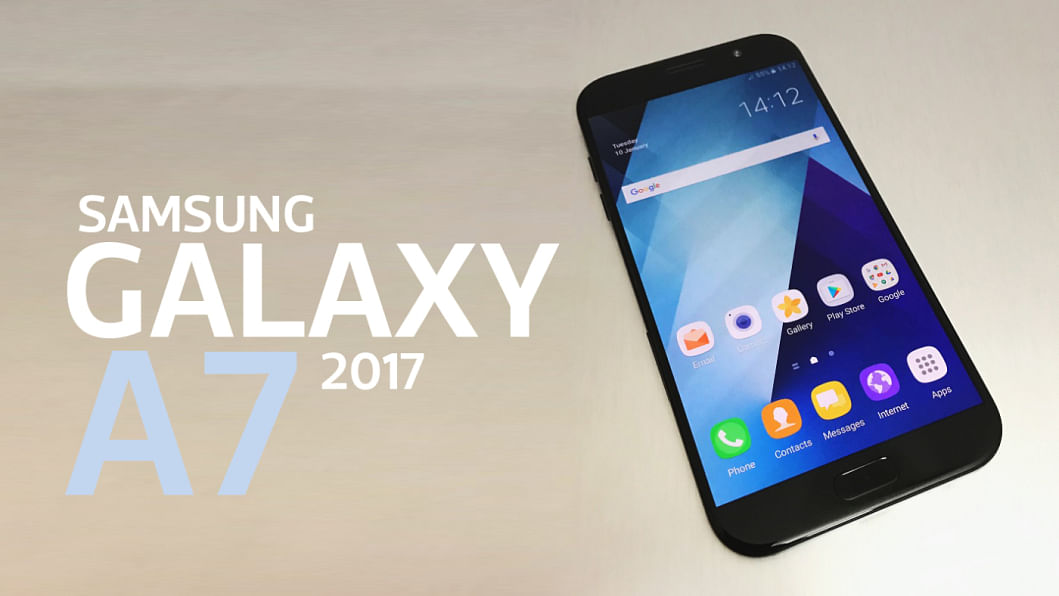 Smartphones are usually a lot better when they have big screens. From sending long messages to your boss explaining how badly you need that leave, to watching videos of a kangaroo terrorising an Australian bloke in a Land Cruiser, you name it, everything is better with a bigger screen. Moreover it's IP68 water and dust resistant. But how good does it perform? Let's find out:
First Impressions:
The A7 does not make you want to have hands the size of the moon. It's wrapped all around in toughened Gorilla Glass, curving round both the front and rear edges for that extra little bit of grip that decides the fate of your wallet. It follows the same design language as the likes of the premium line of devices from Samsung, resulting in the color-matched metal frame sandwiched between the two sheets of glass. 
The speaker grill has been moved from the conventional bottom or rear-firing location, to an unusual place on the upper right corner of the phone, just above the unlock button. The new placement proves to be great when in portrait mode, but can be a pain when watching videos or playing games in landscape mode. Our test unit came in black and from a fair distance, you can easily mistake it for an iPhone, but everything looks like an iPhone these days, even my toaster looks like one, so that's no problem. The fingerprint reader is on the home button, where it should be (not beside the camera hump, S8).
Display and hardware:
As with almost every other mid to high end Samsung phone in the market, the A7 also comes with an AMOLED display. It's a 1080p 5.7-inch unit with a pixel density of about 386ppi, providing saturated colours with inky blacks and adequate brightness to be clearly visible under the sun.
In a market where mid-rangers more often than not advertise themselves for having flagship specs, the A7 falls behind on paper. The Octa-Core 1.9GHz Exynos 7880 that it comes with is comparable to Qualcomm's Snapdragon 615 chipset. It is paired with 3GB of RAM, and apart from the little lag and stutters here and there, the phone fared the daily dose of gaming, YouTube, switching between multiple email clients and the usual social media platforms quite well.
Where it falls behind, it leaps ahead with its brilliant battery life. The 3600mAh battery keeps the phone going on forever, even with the Always On Display feature showing notifications along with the date and time always turned on. A new efficient Exynos chipset, an AMOLED 1080p display and a somewhat large battery seems to be the perfect formula for one of, if not the best battery life in its class. PCMark Battery benchmark tests clocked about 12hrs of battery life, hello two-day battery life.
Software:
The A7 ships with Android 6.0 Marshmallow. Samsung has done a great job in making their UX look as minimal as possible.  The notification and quick shortcuts drop down is cleaner than ever before, and the color palette consists of colors that don't make your eyes pop out. Core apps are polished and much less heavier than they used to be.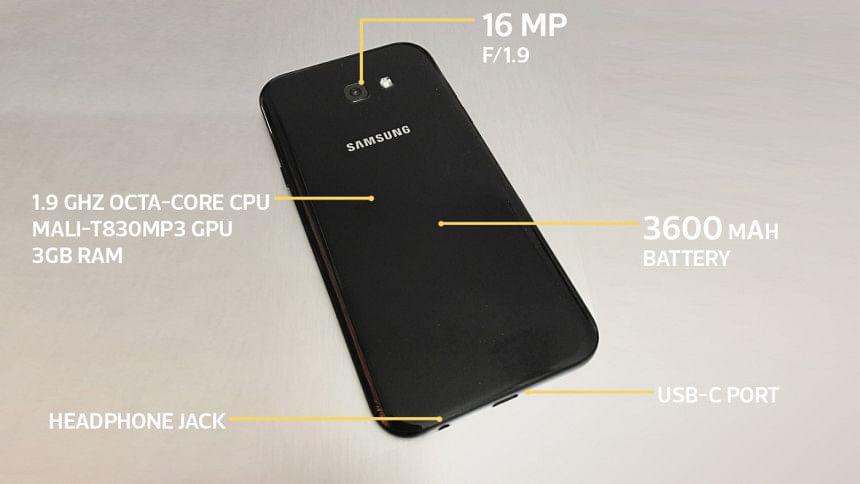 Camera:
The A7 features similar 16-megapixel units both front and back. Autofocus locks on very quick and photos are mostly well exposed in imperfect lighting conditions. Photos taken indoors have slightly grainy bokeh but that's mostly due to the Samsung software over-sharpening the photos. Both units have a fast aperture of f/1.9 but even still, the low light performance is just slightly above average. Photos taken in well lit environments come out quite detailed and the f/1.9 lens does a very good job of blurring out whatever should not be in focus. Video recording is limited to 1080p at 30fps, with no optical or software stabilization.
SPECS
Display: 5.7 inches, FHD Super AMOLED Display
Processor: 1.9 GHz Octa Core
Camera: Rear 16MP + Front 16MP
OS: Android 6.0.1 (Marshmallow)
RAM: 3GB
ROM: 32GB
Battery: 3,600mAh
Features: Fingerprint, Battery Optimisation, fast charging etc
Price: Tk. 44,900/-
VERDICT
The A7 looks brilliant and is quite easy to use in one hand despite the massive screen real estate. Where it falls behind in raw power and sheer number of pixels, it leaps ahead in battery life and ergonomics. The camera is great when in good lighting conditions, but suffers a bit in low light. Build is fantastic; the phone feels very solid in hand with no flex at all in the chassis. The speakers don't seem to have much oomph, but that comes with most water resistant phones though. If your work or passion somehow involves staying away from a power outlet for a day or two while getting drenched in water and dust, this device can serve you well. If you need even more juice from the battery, it will top up from 0 to a 100% in less than 2 hours.