Western Marine builds two ships for Indian firm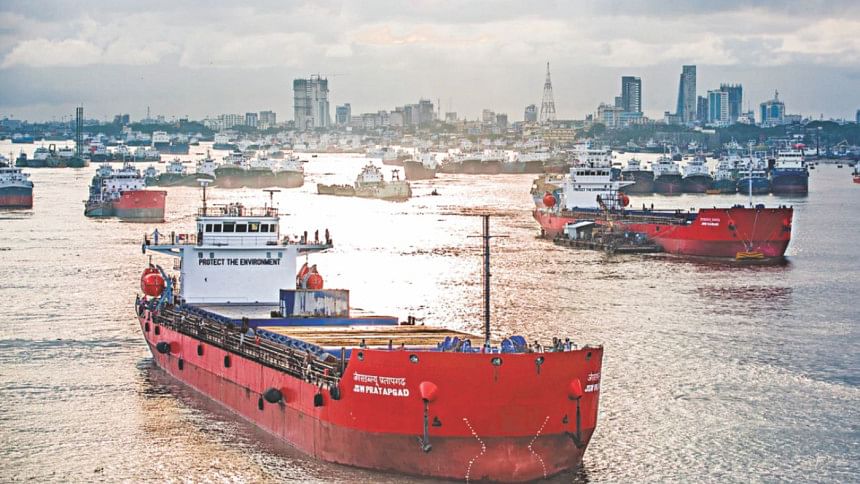 The shipbuilding sector of Bangladesh has an immense opportunity to work with India as the neighbouring country is set to expand water-based cargo movement targeting huge growth in infrastructure development.
India's current government has given importance to bringing a model shift in the transport of cargo from road to rail and rail to water, said BVJK Sharma, chief operating officer and joint managing director of JSW Infrastructure, a concern of Jindal Group.
"We are now planning to use the largest ships possible for the river and coastal routes," he said, adding that India is losing about $45 billion annually for not using its waterways enough for transporting cargoes.
Sharma's comments came on Monday at the handover ceremony of two bulk vessels made by Bangladesh's leading ship builder Western Marine Shipyard for JSW Jaigarh Port Ltd, the first deep-water private port in Maharashtra.
Built at Tk 96 crore, the two bulk carriers, JSW Pratapgad and JSW Raigod, are among the ten commissioned by the Indian company in 2015 for a total of Tk 480 crore.
JSW Pratapgad and JSW Raigod have a capacity of 8,000 deadweight tonnages each, making them the largest vessels to be built in Bangladesh to date, according to officials of Western Marine Shipyard.
Both the vessels, which are 122.25 metres long, have been manufactured in compliance with the Indian Register of Shipping, a Mumbai-based globally recognised ship classification society.
India is gunning for 8 to 9 percent of GDP growth over the next few years, meaning there will be about 10 to 12 percent growth in cargo movement, Sharma said.
The neighbouring country is set to expend a trillion dollar on infrastructure itself and out of that 25 to 30 percent is allocated for port and shipping.
"There is a huge opportunity for Bangladesh in this regard as both the countries want to go hand in hand," Sharma said.
He, however, expressed his concern about the higher bank interest rates in Bangladesh.
"Today in India, interest rates are not exceeding 4 to 6 percent. But the interest rates here are very high. That would kill you," Sharma added.
Western Marine Shipyard has successfully navigated the downturn faced by the world's shipbuilding sectors in last 4 to 5 years, said its Chairman Sohail Hossain.
Sakhawat Hossain, managing director of the company, went on to thank the Indian firm for having trust on his company and hoped to get more orders from it in future.