Tussle with KEPZ earns Bangladesh bad name
Analysts say at discussion co-organised by MCCI and SANEM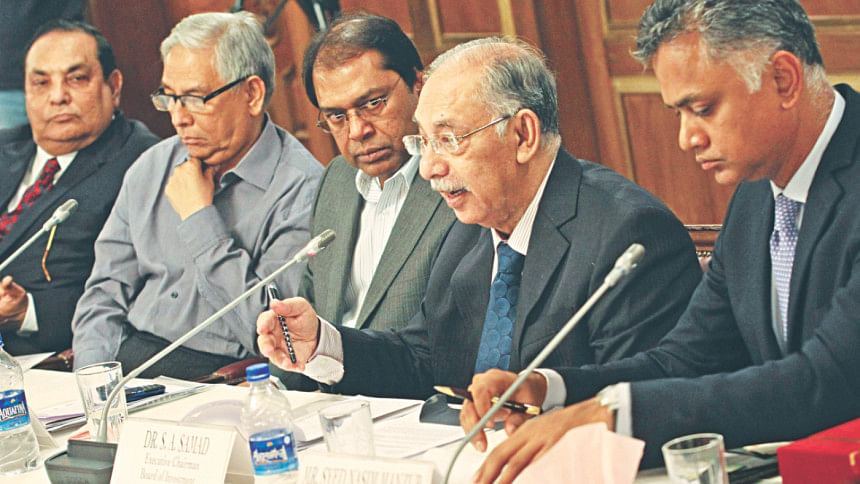 Bangladesh has earned a bad name among investors abroad due to the tussle between the government and the Korean Export Processing Zone over the allocation of nearly 2,500 acres of land, analysts said yesterday.
The government plans to take back 2,000 acres of the 2,500 acres of land it allocated to the KEPZ in 1999 to establish factories.
"This gives Bangladesh a very bad name," Mohammed Farashuddin, former governor of Bangladesh Bank, said at a discussion, 'A New Investment Regime for Bangladesh'.
The discussion was jointly organised by the Metropolitan Chamber of Commerce and Industry and the South Asian Network on Economic Modelling (SANEM) at the MCCI office. Seeing the discord has the potential to have an adverse impact on the country's investment climate, the government should give the topmost priority to solving the issue through the Board of Investment, he said. "As I understand, it is quite possible to talk to the Koreans behind closed doors in an amicable manner, solve the issue, generate goodwill and get some lands also," Farashuddin added.
An impasse between Youngone Corporation, the operator of the KEPZ in Anwara, Chittagong, and the government has been going on for a long time over delays in executing the deed transfer of the land. The government has blamed Youngone for its failure to fully use the industrial land in the KEPZ.
The discussants attached the importance of political stability, policy continuity, reforms and implementation as well as improvement in governance and reduction of infrastructure deficits to attract more private investment, needed to attain 8 percent growth by 2020. However, there are concerns over falling private investment in recent years, said SANEM Executive Director Selim Raihan, while presenting a paper at the event. Private investment as a percentage of total investment has fallen from 80.8 percent in fiscal 2010-11 to 77.1 percent in fiscal 2013-14.
The average share of foreign direct investment (FDI) as a percentage of gross domestic product remains at only 0.9 percent, which is much lower than in India, Sri Lanka, Cambodia and Vietnam, he said. Bangladesh needs a new investment regime for the growth rate target to be achieved, he said, while suggesting second-generation reforms to economic policies and institutions.
There have been no major reforms in the last two decades, so the marginal benefit of the first-generation reforms has diminished quite significantly, said Raihan, also a professor of economics at the University of Dhaka.
On FDI, he said a nice policy document is not enough. "To create examples of success -- we need to bring brands."
Raihan, referring to the government's plan to establish economic zones at different locations, said: "We are talking about different EZs now, but what happened to KEPZ?"
Without branching out into 100 EPZs, there is a need for soul-searching over what happened at KEPZ, he said.
BoI Executive Chairman SA Samad said he could not say anything about KEPZ because it was not handled by his organisation. "But I do agree that it has been stuck for 17 years. We have been trying to find a solution and we do agree that it does have a very adverse impact on the investment climate." The BoI chief said the frequent changes in policies are annoying investors. 
MCCI President Syed Nasim Manzur also said policy continuity is important to attract investors. Tabith Mohammed Awal, deputy chief executive of Multimode Group, called for easing the cost of doing business and a change in attitude. "No incentive is bigger than the ease of doing business and that is eroding. It is alarming," he added. Matiur Rahman, chairman of Uttara Group of Companies, blamed the lack of governance, poor coordination among ministries and the lack of accountability for the sluggish investment climate.
Farashuddin said there is an immediate need to go for expansionary monetary policy. There should be a bold coordination between the monetary, fiscal and trade policies, he added. SANEM Chairman Bazlul H Khondker said investment in social infrastructure, particularly on health and education, is needed to create human resources.