Textile fair kicks off in Dhaka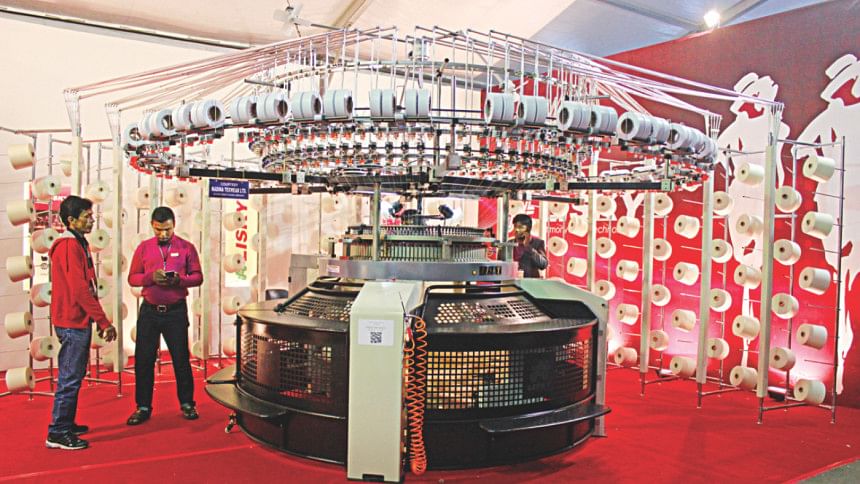 Leading global brands in textiles and garment technology, machinery and parts are now displaying their modern products at a fair in Dhaka for Bangladesh's growing textile industry.
Tricotex Machinery Ltd has brought a flat knitting machine from German manufacturer Stoll to display and sell at the 13th Dhaka International Textile and Garment Machinery Exhibition which kicked off at Bangabandhu International Conference Centre yesterday.
"This machine will not only guarantee you world-class production capability, it will also increase your production," said MB Rahman Biplob, sales and marketing manager of Tricotex Machinery Ltd.
The 142-year-old company's automated sweater knitting machine can help companies produce 45 pieces of sweaters a day while machines from other companies can produce up to 15 garment units, he said. Tricotex has so far sold 6,000 machines in Bangladesh, Biplob said. "Around 40,000 such machines are in use now, and there is demand for another 40,000."
"Companies are modernising their production process in huge numbers in order to cut cost and produce high-end products. So, we have the opportunity to grow here," said Biplob.
The Stoll product portfolio comprises flat knitting machines and patterning software which are used to make fabric for fashion and technical applications.
Guangzhou Yong Jin Machinery Company Ltd has brought automated needle loom and weaving loom, which its salespersons say have high speed and 30 percent more production capacity than traditionally used machines.
Bangla Trac Ltd, the exclusive authorised dealer of the US company Caterpillar in Bangladesh, is selling power generators, fork-lifts and other spare parts.
Exhibitors said the fair offers immense opportunity to connect with traders and industrialists.
"The fair is important for our business, and that is why we are here for the third time," said Jack Wang, of the Chinese Shijiazhuang Kangda Textile Company, which sells fabrics. Jakir Hossain, managing director of Ad Tex Solution, expressed the same: "Buyers and sellers do not get frequent opportunities to network. Besides, companies cannot afford to send their executives to different companies in different countries to assess the quality of the products."
Ad Tex Solution is showcasing denim machinery, yarn, chemicals and industrial lightings. Its industrial lightings imported from China save energy by 80 percent and give 100 percent more light, Hossain said.
The government has put utmost importance in skills development in the textile sector, as 13,000 foreigners who work in the sector are paid salaries equalled to the pays of 3 lakh workers, said Mirza Azam, state minister for textiles and jute. The government is now setting up nine textile colleges and 13 textile institutes in different districts, he said while inaugurating the four-day show.
Bangladesh Textile Mills Association (BTMA), Taiwan's exhibition management firm Chan Chao International Company, and Yorkers Trade and Marketing Service Company of Hong Kong are organising the fair.
More than 1,000 textile equipment manufacturers from 34 countries, including Bangladesh, are displaying a variety of state-of-the-art textile and garment technologies and machinery in about 1,200 booths, said Md Fazlul Hoque, vice president of BTMA.
The fair offers the opportunity to compare the latest technological developments and choose from the best, said Shafiul Islam, first vice president of the Federation of Bangladesh Chambers of Commerce and Industry.
The participating companies and brands would be able to meet the whole demand of Bangladesh's textile sector, said Tiger Lin, managing director of Chan Chao International Company.
Siddiqur Rahman, president of Bangladesh Garment Manufacturers and Exporters Association, said the textile and garments sector can provide jobs to about two million people, who enter the workforce every year.
Judy Wang, an executive director of Chan Chao Interna-tional Company, also spoke.
Global brands such as Barudan, Jakob Muller, Karl Mayer, Loepfe Graf, Lonati, Oerlikon, Pai Lung, Picanol, Rieter, Santoni, LMW, Shima Seiki, Thies, Truetzschler and Zimmer are among the exhibitors. The fair will remain open to visitors from 12pm to 7:30pm.