Internet users rise in March
Fuelled by mobile data and broadband services for educational, entertainment and professional purposes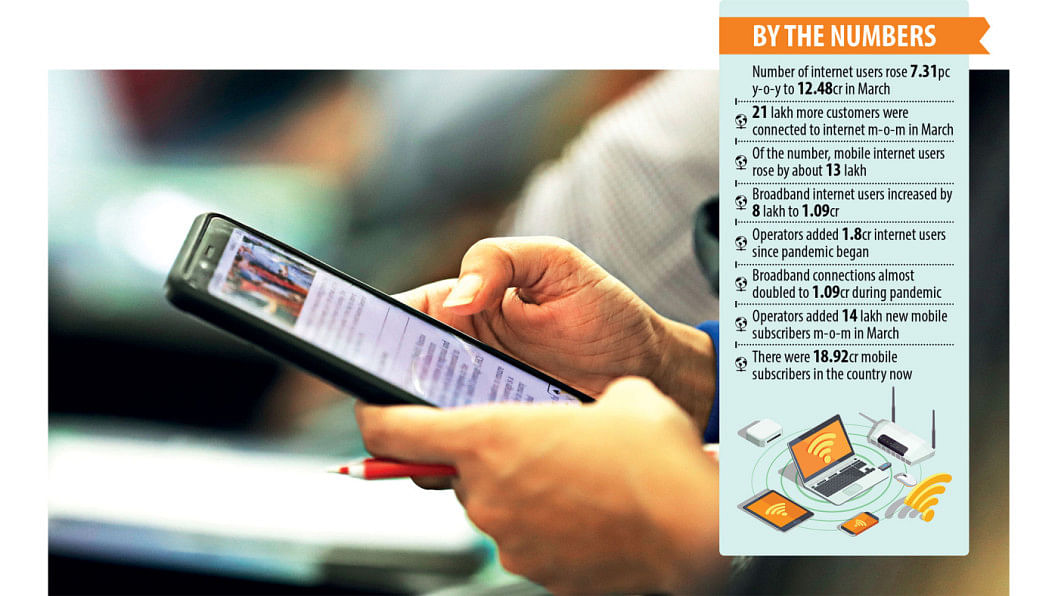 The number of internet users in Bangladesh rose in March thanks to increased usage of both mobile data and broadband services for educational, entertainment and professional purposes amid the improving Covid-19 situation.
The number of internet users gained 7.31 per cent year-on-year in March to reach 12.48 crore, according to the latest data of the Bangladesh Telecommunication Regulatory Commission (BTRC).
On a month-on-month basis, the growth was 1.71 per cent, meaning that there were about 21 lakh more customers connected to the internet in March compared to February.
Of the 21 lakh new users, mobile internet users accounted for about 13 lakh, taking their total number up to 11.39 crore, while broadband users increased by 8 lakh to 1.09 crore.
Mobile and broadband internet services have been seeing a surge in usage ever since the pandemic surfaced in early 2020.
Mobile network operators added about 1.8 core internet users since February that year while broadband connections almost doubled at the same time.
Mustafa Jabbar, the minister for posts and telecommunications, said internet usage is increasing as the pandemic made the world data-dominant.
"If the number of internet users drops any time, it will be temporary," he added.
However, about 74 lakh customers were lost by network operators from November 2021 to January this year compared to the figures in last October, when the number of mobile internet users reached an all-time high of 11.91 crore.
Mobile internet usage rebounded from February as operators added 25 lakh subscribers from February to March.
According to Mohammed Shahedul Alam, chief corporate and regulatory officer at Robi, the rise in smartphone penetration and spectrum utilisation helped increase mobile internet usage in that period.
Three mobile network operators -- Grameenphone, Robi and Banglalink -- collectively purchased 27.4 megahertz of spectrum for $885.35 million to lessen the pressure on their overstretched networks and improve their services following the rise in subscribers.
"Despite the spectrum purchase last year, we haven't been able to roll it out fully as we were waiting for equipment imports," Alam said.
"Now, spectrum reframing has been completed and users' experience improved accordingly, helping the rise of mobile internet users," he added.
Spectrum reframing refers to the repurposing of spectrum bands to more effective technologies or new services.
According to the BTRC, the share of smartphones among locally produced mobile phones rose to 40.24 per cent in March from 33.55 per cent in January.
Alam said smartphone penetration in the country now stands at 52 per cent, up from 47 per cent at the end of last year. This means that out of 100 phone owners, there are at least 52 using smartphones.
However, Posts and Telecommunications Minister Jabbar said that network operators are yet to give customers the satisfaction of quality internet services.
"But the operators bought another 190 megahertz of spectrum for $1.23 billion in March, which will boost their network in the future," he added.
In the mobile subscriber segment, all four major operators -- Grameenphone, Robi, Banglalink and Teletalk -- made gains in acquiring new customers as they added about 14 lakh customers in March.
On a year-on-year basis, the growth was about 4.6 per cent for that month.
Market leader Grameenphone's total number of mobile phone customers increased 3.85 per cent year-on-year to 8.38 crore in March from 8.07 crore previously.
The operator added about seven lakh new customers that month.
The number of customers of Robi Axiata, the second largest mobile operator which crossed the 5-crore subscribers' landmark in September 2020, grew by 4.1 per cent year-on-year in March to reach 5.37 crore.
During the same month in 2021, it was 5.19 crore.
The network provider added three lakh new customers that month.
Third-placed Banglalink grew its customer base by about 5 per cent year-on-year in March to reach 3.80 crore.
The carrier also added about over three lakh new customers that month.
The number of customers of state-owned Teletalk, which lags behind all private operators by a big margin, rose 22.50 per cent year-on-year in March to reach 68.9 lakh by adding about 10,000 new customers that month.