Telcos' data revenue surges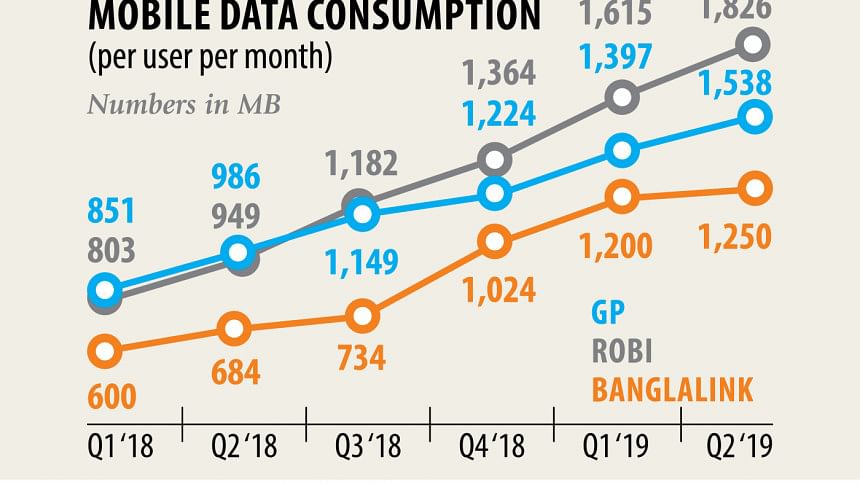 Data revenue for the top three mobile phone operators surged 23 percent to Tk 2,862 crore in the first half of the year on the back of fast-expanding 4G coverage.
In February 2018, Grameenphone, Robi and Banglalink rolled out the fourth-generation service. State-run Teletalk followed suit in Decemberbut it does not make data public.
In the last 20 months, the 4G service has grown from strength to strength, pushing data consumption up significantly.
A subscriber consumes more than 1.5GB of data every month on an average, up from below 1GB at the end of the second quarter last year.
"Nowadays, lots of digital services are available on mobile platforms, which are boosting data consumption," said Shahed Alam, chief corporate and regulatory officer at Robi.
"4G has definitely given the industry a fillip and changed the customers' data usage pattern."
People use data to buy products from online shops, hire rideshares, call plumbers and get appointments online and all of these have made people's life easier, experts say.
Grameenphone, the largest operator, earned Tk 1,410 crore from January to June in data revenue, up from Tk 1,190 crore a year ago.
The second largest operator, Robi, took home Tk 1,062 crore, according to its parent company's quarterly report, which was Tk 799 crore during the same period last year.
Banglalink, the third biggest operator, made Tk 429 crore up from Tk 341 crore in the same period in 2018.
Alam said the market can definitely grow further, but in order to reap the maximum potential, certain challenges have to be addressed.
A huge challenge for the industry is stemming from the frequent cuts to fibre optic cable connectivity.
"Fibre network is the lifeline of data connectivity and we are prohibited from building this network," Alam told The Daily Star. Three public and two private companies have established the network.
Alam says Robi has the largest 4G network in Bangladesh. It has invested a huge amount after merging with Airtel and already covered all the upazilas with the 4G network.
Low smartphone penetration poses another challenge to data usage growth. About 38 percent of the total mobile users use smartphones.
"The penetration rate is lower compared to our network coverage growth," he said.
Defying the challenges, a subscriber of Robi used about 1,826 megabytes of data every month in the second quarter, up from 949MB in the same quarter a year ago.Of the 4.79 crore active connections of Robi, 62.8 percent used mobile data in June.
Grameenphone has 3.98 crore data users and they use 1,538MB per month on an average, up from 986MB a month in the second quarter last year.
Banglalink's subscribers used 1,250MB per month at the end of June, double from what they consumed every month in the second quarter last year, according to the operator's quarterly report. Teletalk has never published information about its customers' data consumption. It has 4G service only in a few big cities and the coverage is still at a very minimum level.
Alam pointed out policy inconsistency and uncertain regulatory regime which is discouraging investment. As a result, data usage is not increasing as expected.
As for example, the Quality of Service Guideline has made it mandatory for operators to provide 7Mbps of speed to 4G subscribers, he said. "But in case of video streaming or other 4G services, a speed of 3Mbps is sufficient for the users to enjoy the services. If we have to ensure 7Mbps speed, each operator will need an additional 10MHz of spectrum every year."
"If the current situationpersists, digitalisation will come to a halt and data consumption will not grow further," Alam added.